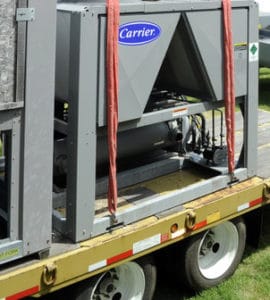 Mobile cooling units can provide a great solution in an urgent situation or for a temporary application. Consider Alpha Energy Solutions as your premier source for portable cooling equipment. In fact, we deal with all of the major manufacturer brands in the HVAC industry, so you can trust our expertise.
Moreover, the technicians at Alpha Energy Solutions deliver over 2000 years of field experience. We deal with systems of all capacities. Regardless of the type of facility or project that you are working with, our technicians can assist. Not only do we provide delivery and installation, but we also provide service.
Mobile Cooling Applications-Commercial and Industrial
There are numerous applications in which mobile cooling units are appropriate. They can be used for large outdoor events such as festivals, concerts and at outdoor sporting venues. Medical facilities, retail establishments and construction sites all make use of cooling systems. If you have a question about cooling and a unique application, contact Alpha Energy Solutions.
Our technicians can offer efficient systems that deliver high performance. More importantly, because we deal with all of the well-known brands in HVAC, we can provide a vast range of selection. In addition to offering options to our clients, you can also rest assured that your cooling system will be backed by support.
After delivery and installation, you can count on Alpha Energy Solutions as a service provider. Our technicians are on-call 24-hours a day and 7-days a week. 
The length of time in which you might require your cooling system will vary however, we do offer plans that will help to keep your system performing well. Preventative Maintenance Programs are available. The programs are beneficial even for mobile cooling because through them our technicians can monitor your system, provide seasonal service and update you on potential repairs before they worsen.