Ohio
Alpha Energy Solutions
Providing Top Quality Commercial and Industrial Mechanical Services In Ohio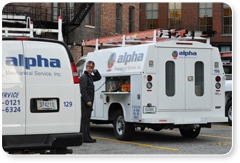 Alpha Energy Solutions is proud to service Ohio. With more than 40 service trucks on Ohio roads, the Alpha Energy Solutions team of highly trained technicians is available 24 hours a day, every day, to meet your mechanical service needs. We provide our complete portfolio of mechanical services to businesses and industries throughout Southern Ohio.
Commercial and Industrial Mechanical Services In Ohio:
Alpha Energy Solutions established its Cincinnati office in 2013 and quickly added customers in retail, manufacturing, and medical offices. The office services many of the company's national accounts, which have locations in the region, from Dayton to Mayesville and northern Kentucky.
For more information on how Alpha Energy Solutions can meet your Commercial or Industrial Service needs, call us toll-free at (888) 212-6324 or click here to contact us.