SanitizeIT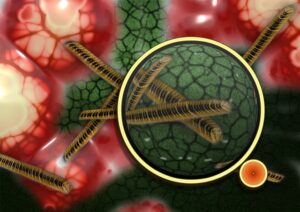 SanitizeIT  Commercial cleaning is becoming a larger concern for businesses in the wake of recent events surrounding Covid-19. The virus, which has reached pandemic proportions, affects people's lives in virtually every corner of the Earth. SanitizeIT is a viable commercial cleaning treatment that can help facilities do their part to prevent the spread of viruses and other serious health triggers. Since most people spend the greater part of their day in buildings, it is only normal to consider cleaner conditions.
Many companies rely on independent cleaning companies or internal staff to perform activities like sanitizing an area. Although cleaning with recommended solutions is helpful, it is not always 100% effective. Cleaning a space does not necessarily decontaminate it or disinfect it. In fact, some cleaning materials are not powerful enough to remove pathogens, such as viruses. SanitizeIT, on the other hand, can remove an extensive list of viruses. Alpha Energy Solutions can provide an effective service that will clean and disinfect and deodorize spaces inside commercial buildings. Allow us to get
In essence, a building really isn't clean unless it is sterile, much like a hospital or clinical setting. Cleaning should not just happen on the surface. Furthermore, clean buildings are free from viruses, bacteria, mildew, and also a mold. SanitizeIT, as a disinfecting device, goes even further. The tool also removes offensive odors.
SanitizeIT Benefits for Commercial Facilities
Corporate offices and places of work are havens for germs. Telephone handsets, headsets, computer keyboards, doorknobs, and break room appliances are places where viruses can live. The fact of the matter is that certain places are more prone to germs. For example, daycare centers constantly have viruses circulating. Despite regular attempts to maintain cleanliness, it is not uncommon for children, daycare workers, and their parents to be exposed to serious illnesses such as the flu, whooping cough, pink-eye, and strep throat, to name a few.
SanitizeIT is a product that has been proven effective in treating viruses, bacteria, mold, and mildew. Tests show that the solution included in the spray system is capable of killing numerous viruses. Based on the kill list, most pathogens are killed within a 10-minute contact time, if not less.
When employees call out due to being sick, business profits decline, and employees may notice a decrease in their income. The cost for medical visits, prescription drugs, and OTC treatments can mount, causing financial implications. Because people do spend much of their time in buildings, facility managers and business owners have a duty to keep spaces clean. Preventing the spread of viruses benefits everyone and, most importantly, ensures that a business can continue to thrive. Profitability depends on a healthy environment where people can ultimately be productive.
SanitizeIT – Points to Consider
Among the list of viruses that our SanitizeIT product kills are H1N1, Norovirus, Rotavirus, and Hepatitis A, B, and C. We can also kill strains of the flu. Additionally, the solution that we use is capable of killing bacteria such as E.coli and salmonella. But, there is more great news about the cleaning solution.
We realize that businesses today have growing concerns about the safety of disinfection products used in commercial facilities. There have been stories in the news of staff unintentionally mixing different materials with hazardous results. Rest assured, SanitizeIt is a product that is safe to use. In fact, SanitizeIT is NSF-certified, so it is safe to use on contact surfaces where food is placed. In this case, the spray is ideal for food facilities such as restaurants prone to viruses.
Cleaning materials, in certain cases, can damage furniture and carpeting. The exact opposite holds for SanitizeIT. Our cleaning solution is non-corrosive. Our formula can be safely applied to electronics that are commonly found in commercial buildings and corporate offices. Furthermore, the SanitizeIT solution can be used on various fabrics to include carpeting, without causing damage.
Sanitizing HVAC Systems
Another area in buildings that can be used to control and stop the spread of viruses is the HVAC system. Temperature control is a necessity in buildings because it fosters better air quality. Temperature variations can contribute to the overgrowth of viruses, mold, and mildew, which can also cause awful odors. For many people with sensitivities, allergies can cause just as much discomfort as the common cold. Businesses, however, can take control of the air quality by keeping HVAC units cleaned and sanitized.
Heating and cooling systems can be a source of allergens. Allergies affect some people, much like the common cold. Additionally, exposure to allergens may lead to long-term health implications. Controlling allergens in a building helps occupants, but it also helps maintain a clean air environment.
Although facility managers may have concerns about damage to HVAC parts, the SanitizeIT will not damage heating and air-conditioning components. Deadly pathogens may live in the air handler, distribution components, and fan coils, for example. A service technician can treat HVAC elements with a light sanitizing spray.
On-Call Services
Businesses can schedule a service call with our technicians who are on-call 24-hours a day, 7 days a week.
We can provide the Clinically Clean® disinfection for your commercial building in just under 30 minutes if your facility is around 2,000 square feet. After just a short inspection and preparation, our service technicians can provide a quote for service and begin working on sanitizing your facility. The process is both fast and effective. Moreover, after applying the sanitizing solution, which consists of a light mist, it does not need to be removed.
The solution will dry on its own. For a safe and effective treatment solution, consider Alpha Energy Solutions. Not only are we experts in HVAC, but we can work with you to ensure that you are making the most of your temperature control equipment. With proper cleaning, your facility can lead the way in preventing the spread of dangerous diseases.
Please find out more about our extensive service capabilities.
Contact us to schedule an inspection and service today.
Alpha Energy Solutions
7200 Distribution Drive
Louisville
,
KY
40228
United States (US)
Phone:

(888) 212-6324
Fax:

(866) 296-8035
| | |
| --- | --- |
| Monday | Open 24 hours |
| Tuesday | Open 24 hours |
| Wednesday | Open 24 hours |
| Thursday | Open 24 hours |
| Friday | Open 24 hours |
| Saturday | Open 24 hours |
| Sunday | Open 24 hours |