HVAC Parts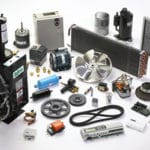 When you order your HVAC parts, from Louisville, KY based Alpha Energy Solutions, you not only get great value but we will also help you find the correct part.
Purchase your parts with confidence from our professional HVAC technicians in Louisville, KY. We supply quality replacement HVAC parts for furnaces, heat pumps, and air conditioning systems.
Quality HVAC Parts available to be shipped from Louisville, KY
Our premier parts line has been tested thoroughly and was selected based on quality and reliability. Based in Louisville, KY, where UPS maintains its USA hub, most parts ship out to you the same day, allowing you to complete your HVAC service or repair quickly.
About our HVAC Parts Division in Louisville, KY
Alpha Energy Solutions is a top distributor of commercial and industrial heating and cooling parts. Our customers depend on us to deliver the best equipment brands – brands like Rheem and our selection of
HVAC options
, ranging from repair parts to air distribution fans and ventilation parts. Our highly-trained local associates are true experts on heating and cooling products we carry and offer the product training, tech support, and consultation you require.
Service for Heating and Cooling Parts
A tech with our specialized expertise can help you navigate the complex parts information. Your machine will offer invaluable information that will make your search for parts simpler, but this tech at Alpha Energy Solutions will help direct you in your hunt as well. We work with all the major brand names for parts in heating and cooling. Furthermore, we deal with large capacity systems (as well as smaller ones) so no matter the size of your facility we can help.. Our service technicians are factory-trained to handle all challenging equipment. We are on-call 24-7 to answer calls for service.
As the local leader, we are served by a solid network of distributor locations, which means that you will locate the products you need and get them when you need them – along with the premier customer service, you have come to know from our Louisville, KY Head Office Alpha Energy Solutions. For More Information
Contact us
7200 Distribution Dr, Louisville, KY 40258
Industrial Applications
Alpha Energy Solutions can help you locate the right HVAC PARTS. We are your parts experts and have over 100 years of field experience. You can purchase a heating and air parts from our company with confidence. Our local technicians are knowledgeable and can direct you to the right parts.
Commercial and industrial clients are our specialty. We supply replacement parts for heat pumps and furnaces. Also, we provide parts for the air-conditioning system. If you need parts for your facility, you can contact us for help with your repairs.
HVAC Parts and Service
Additionally, we provide quality HVAC PARTS that have been tested. We can also deliver your parts quickly because we have a strong distributor network. In fact, most parts can ship on the same day. We understand that timing is everything.
Alpha Energy Solutions is proud to offer reliable HVAC PARTS for our customers. Our goal is to deliver the best brands in heating and cooling-brands such as Rheem. Moreover, we have a wide selection of repair parts. Products vary from air distribution fans to ventilation equipment. In addition to brand-name products, we also offer training and tech support.
Our company can help you locate parts at any time during the year. We understand that your heating and cooling systems are an investment.
There is no reason to let faulty systems slow down your operations. Besides, the inconvenience of a faulty unit waiting for parts can be equally as frustrating. Emergencies can bring even more headaches if not fixed promptly. Our trained professionals can respond to your needs quickly. Your satisfaction is our concern, and that is evident in our reliable service and quality products.