Parts Department
HVAC Parts as well as Boiler, Chiller, Plumbing, and Commercial Food Equipment Parts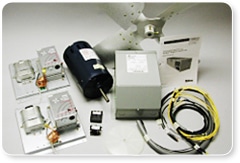 The Alpha Energy Solutions Parts Department is well equipped to handle any parts requirement you may have, including boiler, chiller, HVAC, plumbing, electrical, and commercial food equipment parts. Alpha provides replacement units and parts for government facilities, manufacturing facilities, commercial office buildings, apartment buildings, and condominiums.
From the most commonly used to the hard-to-find, the Alpha Energy Solutions Parts Department will find and deliver the parts you need to get back online.
Replacement parts are available for:
Air Handlers
Boilers
Chillers
Condensing Units
Furnaces
Hanging Heaters
Heat Pumps
Some of the most popular Boiler and Chiller Parts include:
Air Compressors
Ball Valves
Blower Wheels
Compressors
Diffusers
Electrodes
Gasket Kits
Gas Valves
Heat Exchangers
Ignition Transformers
Microprocessor Controls
Oil Nozzles
Oil Pumps
Pressure Gauges
Pumps
Refractory Materials
Refrigerant
Regulators
Relief Valves
Site Glass
Steam Regulators
Steam Traps
Temperature Regulators
Thermometers
Tube Bundles
Tubing Products
Replacement Units:
Air Handlers
Heat Pumps
Condensing Units
Furnaces
Boilers
Hanging Heaters
For more information on how Alpha Energy Solutions can meet your Parts needs, call us toll-free at (888) 212-6324 or click here to contact us.