Alpha Energy Solutions
Focused On Indoor Environmental Energy Savings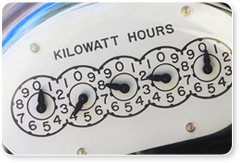 The largest controllable expense for any building manager is the cost of the energy used to heat, cool, illuminate, and operate a facility. When putting together a plan to reduce and control those costs, there's no substitute for expertise and experience.
Alpha Energy Solutions offers comprehensive energy management services using the latest technology, applied to specific conditions by certified managers and technicians with years of experience. Our all-inclusive approach to energy conservation assures our customers of the most thorough, cost-efficient analysis of their energy use and reliable, low-cost methods for monitoring and implementing energy-saving measures.
Alpha believes businesses benefit financially by continually improving their management of energy resources, and the environment benefits from reduced levels of related pollution. We are proud to offer services and products that can assist businesses committed to ENERGY STAR goals.
Energy Efficiency Management Programs
The Kentucky State Fair Board implemented an Energy Efficiency Management Program (EEMP) for its facilities. Alpha Energy Solutions is proud to be the facilitator of this program. The Kentucky State Fair Board maintains the Kentucky Exposition Center, Kentucky International Convention Center, and the KFC Yum! Center. Alpha Energy Solutions has an office onsite at KEC to monitor systems, analyze and establish energy savings measures (ECMs).
Joint Efforts with Energy Service Companies to Develop Energy Conservation Measures
Alpha Energy Solutions also works with ESCOs (Energy Service Companies) to help develop ECMs (Energy Conservation Measures) and act as a liaison between the ESCO and Alpha Energy Solutions to implement mechanical and control ECMs.
Affiliated ESCOs (past and current) Include:
Energy Performance Contract and ECM Clients (past and current) Include:
KCTCS Kentucky Community and Technical College System
High-Efficiency Boilers
High-Efficiency Chillers
Controls Upgrades
VFDs
Kentucky School for the Blind
High-Efficiency Magnet Bearing Chiller
Kentucky State Fair Board
Lighting Retrofit
High-Efficiency Boilers
Evansville School Corporation
Controls upgrades
Eastern State Hospital
Free Cooling Heat Exchanger
Chemical Free Water Treatment
High-Efficiency Boilers
Hazelwood Hospital
Control Systems
High-Efficiency Boilers
Boiler Blowdown Heat Recovery System
Boiler Stack Economizer
Boiler Link fewer Trim Controls.
For more information on Alpha Energy Solutions, call us toll-free at (888) 212-6324 or click here to contact us.