Selected points of this article
hide
What is Global plasma solutions™?
Global plasma solutions™ Benefits: Indoor air quality is important for commercial facilities. Harmful organic matter such as viruses and mold can create an unsafe environment. Alpha Energy Solutions responds to the demand for clean air with Global plasma solutions™, an antiviral treatment that controls the spread of viruses and germs.
The cornerstone of the process is bipolar ionization. Ionization is the energy removed from an ion or atom. Learn more about why Global plasma solutions™ is a great choice for incorporating into your HVAC systems.
Global plasma solutions™ is an innovation that promotes indoor air quality. As a commercial building solution, the technology removes harmful organisms from the air, including viruses, mold, bacteria, and mildew. Additionally, the technology also eliminates particles that settle on surfaces. The prime technology can be added to air systems by a service technician. As a result, HVAC systems can make better energy use while also contributing to cleaner indoor air for breathing.
HVAC systems are critical in helping buildings maintain clean air standards. Air that is not clean does impact performance, profitability, and the health of occupants. Ventilation systems are the difference between healthy air and building sickness, which may afflict people annually. Issues such as the common cold, flu, and allergies may touch businesses resulting in lost time on the job and subsequently lost profitability.
The systems can provide a wide range of benefits that reach beyond just heating and cooling. Temperature control is a critical component in preventing the overgrowth of disease-causing pathogens. With the right devices, an HVAC unit can prevent viruses in the air and on surfaces. Maintaining clean air means that viruses must be killed, inactivated.
HVAC Systems and Global plasma solutions
Global plasma solutions™ is capable of removing harmful organisms in commercial buildings when added to HVAC systems. Using a process known as bipolar ionization, the solution kills viruses on surfaces. For example, if someone coughs or sneezes and releases particles, the solution then removes the contaminants.
Furthermore, through a complex system, the Global plasma solutions™ system removes mold and controls its growth, reduces the flow of outside air, saves energy, and controls the formation of dangerous bacteria and disease-causing pathogens.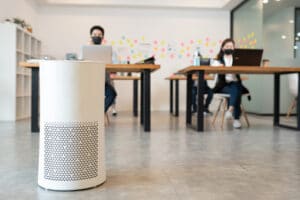 The novel coronavirus is one of the latest threats to impact facilities. The disease, COVID-19, is, according to research, spread by coughing, sneezing, and touching surfaces or objects where the virus has settled. The virus is further spread once a person touches their eyes, nose, or mouth. Although a genetic relationship has been found between COVID-19 and SARS, the two viruses are considered different.
The disease is considered new because it had not been previously identified in humans. Due to the rapid spread of the disease can be spread so quickly, facilities are rushing to decontaminate shared spaces, sanitize areas, and provide healthier environments.
The new coronavirus is an example of a virus that can be spread through the air and live on surfaces. The virus is ideal for Global plasma solutions since it can kill airborne viruses and those that live on surfaces.
One of the first areas of decontamination that facility managers should consider is the ventilation system. Global plasma solutions, when added to HVAC systems, are a preventative measure that businesses of all sizes can use. Below are just a few of the activities that Global plasma solutions are capable of doing for an HVAC system.
Removing VOCs (pollutants)
Killing viruses
Rendering Viruses non-viable
Killing surface viruses
Controlling Gasses
Removing Odors
Although the coronavirus is new, tests to analyze the system's performance have yet to be completed. Several coronaviruses already exist, and therefore, it is possible that the new variation would respond similarly. Research conducted on existing forms of the coronavirus indicates that bipolar ionization killed the viruses. Clean air, however, is an ongoing concern for businesses as new strains of viruses emerge. The solution may help facilities combat threats with a reasonable approach.
Global plasma solutions control viruses
First, third-party testing firms discovered that Global plasma solutions remove ions from pathogens. Ions link with viruses and thus can thrive.
Global plasma solutions™ have successfully garnered kill rates for the following pathogens:
Swine Flu
Bird Flu
SARS
TB
Staph and more…
In addition to viruses, Global plasma solutions™ help control allergens, mold, and spores, contributing to potential health issues. The fact is, cleaner air improves the outcome for inhabitants and individuals working inside of buildings. An HVAC system with clean air characteristics plays an important role in maintaining a healthy environment. Efficient systems are equally as important as they reduce costs and save on energy use.
HVAC Benefits
The cost to operate HVAC systems takes a large chunk out of budget. For this reason, efficient materials are a necessity. Any solution that improves the performance of a unit will contribute to an extended life cycle. Saving energy will save on valuable resources. HVAC units with added solutions like Global plasma solutions™ are three-fold. First, the equipment delivers temperature control.
Second, climate control units offer better air quality. Finally, HVAC systems save on operational costs. The benefits of including technology, such as bipolar ionization, are far too great to forgo. 
All facilities can benefit from clean air by way of air-conditioning units and heating systems. HVAC units are indeed for temperature control, but their air quality role is a critical one that should not be overlooked. Breathable air that is free from contaminants offers better productivity in busy establishments. Schools, hospitals, government facilities, manufacturing centers, and retail establishments all need clean air to operate.
Allow Alpha Energy Solutions to help you strengthen your HVAC systems with the most innovative technology. Explore our clean-air capabilities. Attack viruses head-on. With our efficient product solution, we can bring your HVAC system up to date.
Learn more about how we can help combat dangerous viruses, control them, and help keep your facility safe year-round. Long-term solutions to cleaner air from your HVAC system are simply a phone call away.
Contact us to find out more about our Global plasma solutions™ capabilities and how we can help your facility have cleaner air.
Alpha Energy Solutions
7200 Distribution Drive
Louisville
,
KY
40228
United States (US)
Phone:

(888) 212-6324
Fax:

(866) 296-8035
| | |
| --- | --- |
| Monday | Open 24 hours |
| Tuesday | Open 24 hours |
| Wednesday | Open 24 hours |
| Thursday | Open 24 hours |
| Friday | Open 24 hours |
| Saturday | Open 24 hours |
| Sunday | Open 24 hours |