We have the solutions to help keep your facility and air handling equipment clean and running at peak efficiency:
With our one two punch approach we will sanitize your facility and air handlers with SanitizeIT, then by installing the O2Prime on your air handlers we will then continuously clean the air and reduce and control bacterias & pathogens
It's not truly clean unless it's industrial sanitized clean! Imagine your facility so clean, it's Clinically Clean. Free from Viruses and bacteria free from mold and mildew, free from odors and fragrances. SanitizeIT is EPA registered, Non-Caustic, NSF Certified, Non-Corrosive, Safe & Effective. SanitizeIT effectively kills and eliminates staph, E. coli, Legionella, listeria, salmonella and more; as well as viruses including H1N1, Hep A, B and C, Norovirus and Rotavirus among others. Read More.
Independent testing confirms that bipolar ionization kills viruses where people and animals are coughing, sneezing and touching objects where the contaminants may have landed, ready to infect their next victim. Global Plasma Solutions' technology is easily added to any forced air heating and cooling systems.
How It Works
The Science Behind Our BiPolar Ionization Technology
Each process is different as every customer is unique. Our solution in which Viruses, VOC's (Volatile Organic Compounds) are removed, particles reduced and bacteria killed– starts with BiPolar Ionization. >Read More
Since COVID-19 is a Novel Coronavirus, no analytical testing has been performed
on this particular new variation of the Coronavirus. If this new Coronavirus is similar to all of
the other viruses previously tested, when exposed to Bipolar ionization, it is logical and reasonable to expect similar kill rate results. >Read More
HVAC, Boiler, Chiller, rental, service, repair
Alpha Energy Solutions provides HVAC Boiler and Chiller parts, repair, service and rental to commercial and industrial customers as well as Video Management, Integrated Systems and Visitor Management services. Our goal is to help create and maintain healthy, productive and efficient working and living environments so our customers receive the maximum benefit from their facilities.
With more than 200 service personnel, Alpha Energy Solutions is well equipped to handle all repair and maintenance challenges. As the region's largest mechanical service provider, Alpha Energy Solutions offers the convenience of one company dedicated to delivering exceptional service and value to our customers every day.
Commercial and Industrial Mechanical Services: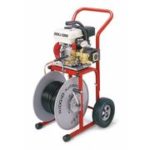 Alpha Energy Solutions specializes in Hot Water Jetter cleaning services which can be used to manage sewer cleaning issues in your building, regardless of size. We are experts in the field and can deliver quality service
Buy with confidence from Alpha Energy's professional Hot Water Jetter technicians who know how to help you find the right equipment. Find quality replacement parts and services. If we don't have it on hand, we can easily find it!