Industrial Sanitizer Treatments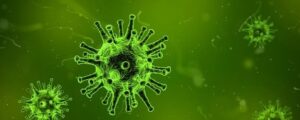 Preventing the spread of disease in a necessity for industrial facilities. Rudimentary cleaning and disinfecting methods are usually not sufficient. Alpha Energy Solutions provides deep cleaning services for commercial buildings including industrial sanitizer treatments. We can help you achieve a facility that is Clinically Clean® using the SanitizeIT disinfecting machine. Harmful bacteria, viruses and other organisms cause unsafe air quality and major health concerns. Keeping facilities sanitized encourages a healthy environment in which businesses can thrive.
Commercial cleaning solutions that are available to the general public are not always thorough. Although commercial facilities stock up on cleaning solutions for daily cleaning, they are simply not able to remove every type of virus. Even products that claim to offer high chemical concentrations for cleaning cannot always get the job done. Cleaning products that are sold on the open market are often insufficient. As a result, commercial cleaning solutions may not provide on-going protection from dangerous viruses, bacteria and germs. Additionally, products with low concentrations do not deliver the best results. In fact, certain cleaning materials are also harmful to the environment. The SanitizeIT solution, however, is both safe and effective as an industrial sanitizer.
Stop the Spread of Infection with Industrial Sanitizer
SanitizeIT helps industrial facilities achieve a Clinically Clean® establishment. The service technicians at Alpha Energy Solutions incorporate the cleaning method to disinfect, sanitize and remove odors from the air. The cleaning device is also effective in commercial buildings, offices, retail stores, schools, and health offices. Common places where humans live and work together are prone to viruses, bacteria, mold and fungi. The best way to protect people from disease, however, is through proper cleaning.
Industrial cleaning must be complete to reduce the spread of germs in facilities. Surfaces such as door knobs, computers, bathrooms and workspaces are likely to collect pathogens. Although it is common to tackle cleaning needs with retail products used by the public, the same products are typically not as effective. Unfortunately, typical cleaners may leave a trail of viruses or residual bacteria. Additionally, plain cleaning materials may represent an increased threat to the industrial environment. People are at risk for exposure to harsh chemicals and fumes from retail cleaning aids.
Thorough Industrial Sanitizer
Humans come in contact with various surfaces within an industrial facility and as such, cleaning is a common practice. Circumventing the dangerous spread of life-threatening viruses and germs requires constant cleaning and sanitizing as a must. Buildings must undertake cleaning on a regular basis, not only during severe outbreaks. There is a great value in taking the right measures to protect staff and customers from disease so that operations can remain open.
Thorough industrial cleaning may be more frequent in some facilities compared to others. For example, medical offices may demand more intense disinfection at a more frequent rate than a personal office. Because some viruses are proliferating at a faster rate than ever before, industrial cleaning frequently is a must. Adequate cleaning of industrial buildings is essential for better air quality and the continued health of staff and customers.
Industrial Sanitizing Focus
Facility managers can observe high traffic areas as a place to start if there is any doubt as to which areas of a building are likely to grow pathogens. Moreover, some types of equipment are more prone to viruses in a facility than others. For example, an HVAC unit is one type of equipment that requires cleaning often. Industrial air systems deal with water, moisture and temperature changes. The temperature changes may cause conditions that breed bacteria or fungi. Additionally, air systems may contribute to putting or removing allergens from the air. The way in which an HVAC unit deals with pathogens is based on how well it is able to perform.
Industrial sanitizer services through Alpha Energy Solutions responds to air quality concerns faced by facilities on a regular basis. In fact, the method that we use for sanitizing air and equipment is quite effective. Our equipment is able to clean a wide area.
Industrial Cleaning Processes
The industrial cleaning process through Alpha Energy Solutions is problem-free as we work on-site with portable equipment. Our field technicians collaborate with end-users to pinpoint the spaces that need a specific focus for cleaning. Clients do not have to worry about lengthy preparations in anticipation of the service. Our clients enjoy a quick but thorough service so as not to detract from daily operations. Industrial sanitizing services with Alpha Energy Solutions takes less time than most other methods. Working with an independent commercial cleaning crew may take additional time and cost additional money. Save time and cost by working with a professional service provider.
Following an estimate on your service completion time, your technician will begin spraying prime areas with a device. The solution that is sprayed through our treatment equipment does not need to be cleaned up, rinsed or wiped away. Our solution is NSF-certified and safe for use around plants, food, and  humans. In fact, most of our clients do not report a foul odor from the cleaning solution. After treatment, some end-users have reported a faint scent of "pool smell" which quickly fades after treatment.
Safe Industrial Sanitizer
Trust Alpha Energy Solutions to provide safe and effective sanitizing, disinfecting and deodorizing. Although a top concern for facility managers tends to be the use of chemicals, the materials that we use for cleaning are safe. We understand that some chemicals are corrosive, however, that is not the case for the SanitizeIT cleaning solution. Despite the fact that we recommend all cleaning areas be free from people and animals, there are no harmful fumes nor should property damage be expected as a result. In conclusion, the SanitizeIT device is an effective cleaning mechanism that offers fantastic results for industrial buildings.
Learn more. Inquire about an estimate on industrial cleaning services.