Selected points of this article
hide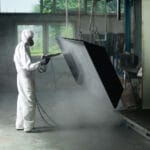 Lousiville, Kentucky-based Alpha Energy Solutions provides commercial buildings with industrial sanitizer servicing options. We realize with the ongoing threat of COVID-19 has businesses worried about moving forward with safer facilities. Employing the SanitizeIT cleaner, we can help your building reach the highest level of sanitization possible. SanitizeIT is an industrial sanitizer and deodorizer that helps keep facilities clean. 
Basics of an Industrial Sanitizer
Commercial buildings are susceptible to infections. In places where people gather into large groups to conduct, businesses are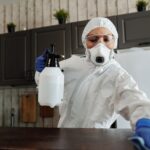 likely to face viruses. Despite the reality that most facilities have sanitizing practices in place, many measures are not thorough. Industrial sanitizer servicing is an effective response. Germ residue can infect people who touch common-use items like doorknobs, phone handsets, and tablets.
Using disinfecting wipes for removing germs is effective, but it doesn't target airborne germs—sanitizer targets both airborne and surface microorganisms. The EPA registers that strong industrial sanitizer is safe to use in commercial buildings. Offices, daycare centers, and industrial plants will benefit from SanitizeIT. Moreover, different facilities are already using SanitizeIT for consistent upkeep.
An Infection Control Formula
Our industrial sanitizer treatment helps kill viruses. Some germs that SanitizeIT is capable of eliminating are Legionella, Norovirus, Staph, and H1N1. Additionally, the current kill list for SanitizeIt includes 40 varieties of germs. The fact of the matter is that SanitizeIT kills germs rapidly. 
Studies into the effects of COVID-19 are ongoing. However, businesses are working to improve their infection-control measures. Additionally, along with COVID-19, other serious viruses are circulating throughout communities at different periods throughout the year. Having the best measures in place for prevention can certainly limit the spread of infection. Furthermore, adequate infection control can help keep buildings healthier for occupants. 
Currently, facilities are taking disinfection and decontamination seriously. There is wonderful news, however. SanitizeIT offers a tremendous industrial sanitizer solution that is diverse. In reality, our solution is widely effective.
The following is a list of reasons why it is worth considering SanitizeIt for commercial and industrial facilities: 
Registered by the EAP

Certified by NSF

Easy to use

Non-corrosive

Safe for use around pets and food spaces

Safe for fabrics

No harsh ingredients

Dries rapidly

Reduced odors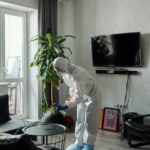 SanitizeIT eliminates mold and mildew. Furthermore, the solution removes unpleasant odors. Industrial sanitizer by SanitizeIT is not only a disinfection solution, but it is also a deodorizer. 
Controlling the spread of germs is also easier with using HVAC. SanitizeIT can safely be applied to HVAC units. Parts like air handlers, coils, and furnaces are areas where SanitizeIT can be used to remove mold, germs, and allergens. Moreover, SanitizeIT can be added to HVAC parts without difficulty. After treatment, the SanitizeIT spray dries up all on its own. There is no need to sanitize it after a spray. 
Industrial facilities will benefit from industrial sanitizing services to limit infectious spread. Contact us at (888) 212-6324 to learn more or make an appointment to visit our Louisville office at 7200 Distribution Dr, Louisville, KY 40258.
Alpha Energy Solutions
7200 Distribution Drive
United States (US)
Opening Hours
| | |
| --- | --- |
| Monday | Open 24 hours |
| Tuesday | Open 24 hours |
| Wednesday | Open 24 hours |
| Thursday | Open 24 hours |
| Friday | Open 24 hours |
| Saturday | Open 24 hours |
| Sunday | Open 24 hours |