Commercial Chiller Rentals and HVAC Equipment from an Industry Expert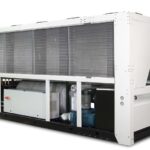 Our clientele, both commercial and industrial, relies on Alpha Energy Solutions to provide cutting-edge commercial chiller rentals from the top brand in the HVAC market.  As a trusted source for quality commercial chiller rentals and HVAC solutions, we provide an excellent choice of parts, equipment, and service for our customers.  Explore our chiller options for your commercial or industrial facility. 
Commercial chiller rentals are energy efficient. For this reason, commercial facilities find that chillers are also economical.  The rental units may be used as a temporary cooling solution, supplementary air, and a viable choice for an assortment of tasks. Commercial chiller rentals and HVAC equipment can be deployed in several distinct settings, including commercial and industrial.  On-call accessibility can help to meet urgent demands.  Furthermore, the equipment provides environmentally-friendly alternatives in addition to high-volume units.  Chillers may also be used within industrial plants. Moreover, we provide low-temperature chillers in addition to multiple variations that are acceptable for a wide array of applications.
Regardless of funding, customers are in a position to maintain the upkeep of rental units economically. Preventative programs furnish an extensive choice of benefits for buyers. What is more, preventative care selections include: status updates, reporting, and monitoring for end-users. Expert maintenance keeps chillers in good working condition.
Commercial Chiller Rentals and HVAC Solutions for Facilities
Because of the many options out there for sale, choosing a rental chiller is often challenging.  Guidance from an established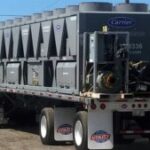 specialist is likely to make the search for a chiller considerably easier.  Alpha Energy Solutions is an HVAC expert with experience in managing large commercial and industrial chillers.  We work with the main brands in HVAC.   Because of the massive supplier community, clients can pick a machine that offers excellent performance and benefits.
Leased cooling units are reliable but may experience problems due to heavy use.  Don't be afraid to contact us in case you experience difficulty with a cooling unit. Moreover, support technicians make it much easier to remain on top of possible issues with outstanding Preventive Maintenance Programs. The preventative maintenance programs predict possible problems and handle them with the service beforehand. 
Chiller systems are complex and enormous machines. The equipment fills a broad selection of applications across a wide range of companies. Additionally, the equipment provides exceptional value only because they continue to encourage greater efficiency.
Best Rentals for Commercial and Industrial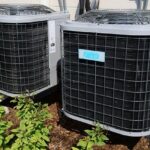 Industrial Boiler RepairWe supply rental air units from the very best brands across the HVAC market. Clients rely upon quality materials together with expert support to maintain chillers in harsh environments. Rented chillers tend toward common wear due to heavy usage, similar to their permanent counterparts. Regardless, Alpha Energy Solutions is a capable provider that can address issues with quality service and care.
Looking for industrial or commercial air-conditioning units? Explore our vast selection of equipment and services, including HVAC rentals.
Contact us to inquire about our rental commercial chillers. 
Alpha Energy Solutions
7200 Distribution Drive
United States (US)
Opening Hours
| | |
| --- | --- |
| Monday | Open 24 hours |
| Tuesday | Open 24 hours |
| Wednesday | Open 24 hours |
| Thursday | Open 24 hours |
| Friday | Open 24 hours |
| Saturday | Open 24 hours |
| Sunday | Open 24 hours |