Chiller Rentals
We provide HVAC, Boiler, Chiller, rental, service, and repair for industrial and commercial clients.
Alpha Energy Solutions provides a full line of air-cooled chiller rentals. We also offer a wide selection of effective water-cooling options.
Industrial Rentals
We provide industrial chiller rentals for all types of settings. Our units are energy-efficient and capable of meeting all of your urgent needs.
Alpha Energy is a full-service rental Company for commercial and Industrial clients. These chiller units are designed and built for deployment in all environments, including any harsh settings that you may be experiencing.
Alpha's Industrial chiller units are environmentally-friendly and use non-CFC refrigerants.
Our industrial units are most often used to provide supplemental emergency cooling for high-volume applications such as refineries and power stations. These units are typically temporary in nature and are available sizes range from 10 to 1,000 tons.
Low-Temperature Process Rentals: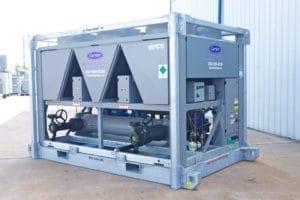 In addition to our industrial selection, our low-temperature process chiller rentals have a modular design and can, therefore, fit almost any size requirement. These are capable of obtaining temperatures as low as -40°F.
Visit our rentals department to read more on the variety of available chiller rentals, or Contact us today for more information.
For more information on how Alpha Energy Solutions can meet your Commercial or Industrial Chiller needs, call us toll-free at (888) 212-6324 or click here to contact us.
Providing Chiller Rentals, Air-Conditioning Rentals, Mobile Cooling, and Chiller Repair Services for Commercial and Industrial clients.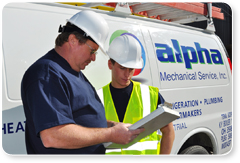 Alpha Energy Solutions provides HVAC Boiler and Chiller parts, repair, service, and rental services to commercial and industrial customers. We believe that it is important to help create and maintain a healthy, productive, and efficient working environment to receive the maximum benefit from their facilities.
Alpha Energy is the region's largest mechanical service provider. As a result, we offer the convenience of one company dedicated to delivering exceptional service and value to our customers every day. Call us today for all your Chiller Rental needs.
Commercial and Industrial Chiller Rentals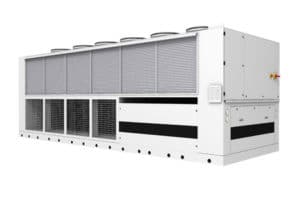 Alpha Energy Solutions can help you select the best chiller rentals. Renting a cooling unit is an important investment. Moreover, choosing the right system can maintain production. We understand how important it is to keep your commercial or industrial facility up and running. Our experienced service professionals can help you to narrow down the options available. There are many different brands to choose from, and we have access to all of the top names in the industry.
Chiller rentals are ideal for various projects, including those with long and short-term timelines. In fact, they are an ideal choice for temporary applications. Whether your project requires a long-term commitment or not, we can help.
Alpha Energy Solutions can help you find a cost-effective way to meet your cooling needs with ease. Avoid headaches by giving us a call.
Chiller Rental-Quality and Service
Our experienced professionals can deliver and install your chiller rentals while providing excellent service and quality. If you need service on your unit, parts, and service are our specialty. We have a wide distributor network and, as a result, have access to all major brands. Although chiller rental systems are reliable, they can have mechanical breakdowns at one time or another.
If you happen to experience an issue with your chiller rental, call Alpha Energy Solutions. We are available 24 hours a day and 7 days a week to provide service. In addition to service, we offer preventative maintenance plans for your unit. Preventative maintenance will help you save money on costly repairs by keeping your system up to date. With your plan, you can expect system monitoring, seasonal maintenance, and regular inspections to ensure that your system is up to date.