Selected points of this article
hide
Commercial Visitor Management Tools
Commercial visitor management systems are a necessity. Today, people can access facilities from almost anywhere, even electronically. Managing visitors is far more complicated in the present day than it was in the past. As a result, companies should trust knowledgeable security experts with helping to implement contemporary security practices. Handling visitors requires more than a simple logbook.
Medical facilities, educational institutions, businesses, and government buildings are just examples of the types of places that utilize Commercial visitor management. Commercial and industrial facilities also must manage who enters a building or specific areas within a building. Loose security can lead to major problems, so managing guests is a critical aspect of security procedures.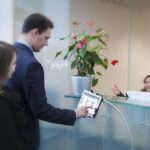 Commercial Visitor management enables businesses to maintain security within and outside of their walls. Moreover, it permits a business owner or security manager to allow access. So while Commercial visitor management can also place restrictions for safety, it can also authorize access when necessary. As a result, firms need some level of flexibility when it comes to deploying security applications.
Due to systems integration, managing visitors can be done with greater ease and more oversight. Businesses can hold people accountable by tracking their activities throughout an organization. Most importantly, businesses can keep people and data safe. Commercial Visitor management goes beyond access control and extends into gathering, organizing, and maintaining information. In many cases, managing visitors contributes to a more productive and efficient operational center.
Commercial Visitor Management Applications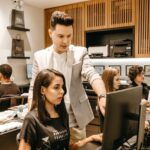 Alpha Energy Solutions can assist your commercial or industrial facility with establishing security protocols. Our range of equipment solutions is also centered on managing visitors. In the past, Commercial visitor management has largely gone digital, meaning less paper and rapid data processing. Technological advances provide a more favorable experience for clients and a higher level of comfort for business owners.
A combination of tools synced through systems integration takes traditional methods and modern advances and harmonizes them to process information quickly so that decision-making is easier. Communication between multiple areas in an organization is smoother, while information can be updated in real-time.
Contact Alpha Energy Solutions to learn about our Commercial visitor management systems.
Alpha Energy Solutions
7200 Distribution Drive
United States (US)
Opening Hours
| | |
| --- | --- |
| Monday | Open 24 hours |
| Tuesday | Open 24 hours |
| Wednesday | Open 24 hours |
| Thursday | Open 24 hours |
| Friday | Open 24 hours |
| Saturday | Open 24 hours |
| Sunday | Open 24 hours |