The Need for Chiller Rentals Louisville KY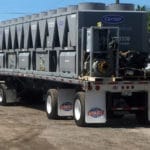 Chillers are used for buildings of all sizes. Chiller Rentals Louisville KY may be appropriate for short-term projects or temporary worksites where a permanent unit or unit is necessary. Selecting rental equipment requires just as much thought as investing in a permanent fixture. Alpha Energy Solutions will handle your requirement with the highest level of care. We are experts in the field. With over 2000 years of experience combined, you can trust us with your rental needs.
Though there are many different types of chillers available, the end game is the same, providing cooling effects. Cooling may be necessary for a building or inside a manufacturing plant, regardless of what application is addressed; knowing what you plan to use the chiller will help you start your search for an efficient system.
Chillers are complex machines, and you should consult an experienced technician when in doubt. Because the selection of chillers available today is vast, you may need to drill down into your building's specifications or project to narrow down the many options at your disposal. Because even chiller rentals Louisville KY are a sizable investment, trust your selection process to a name that you can trust, Alpha Energy Solutions.
The technicians at Alpha Energy Solutions are knowledgeable. We deal with all capacities for chiller rentals Louisville KY. Also, we can support your installation with service and parts selection if needed. We have access to all of the top brands due to our wide distributor network.
Chiller Rentals Louisville KY -Options Available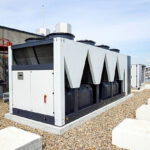 Working through the nomenclature of a chiller is tough for a novice. There are, however, a few important points that you should keep in mind as you embark on your search for such a complex piece of equipment. First, determine your application. Will your chiller be used in an industrial setting? Will any specific equipment rely on the chiller's performance?
Depending on the size of your facility, you may require more than one chiller. Consider your budget when pricing rental units. Some buildings need additional chillers to deliver optimum performance. Your application will largely drive what type of cooling processes you need for your machinery.
Among vapor-compression chillers, you are likely to find either air-cooled or water-cooled options. There are benefits to each configuration based on your preferences and applications. Overall, your chiller should be efficient, offer a substantial capacity, and have an extensive life cycle. Some units rely on heavily ongoing water access, thus decreasing efficiency and causing operational costs to rise.
Review Types of Chillers
Vapor-compression (air-cooled or water-cooled)

Vapor-absorption

Evaporative
Additional points to consider when in the market for a chiller are: spatial requirements and placement, add-on components for performance, and maintenance requirements. Since your chiller is expected to have a long life cycle, selecting a durable unit that is easy to maintain is recommended.
Contact us to learn about how we can help you find a Chiller Rentals Louisville KY for your commercial or industrial needs.
Alpha Energy Solutions
7200 Distribution Drive
United States (US)
Opening Hours
| | |
| --- | --- |
| Monday | Open 24 hours |
| Tuesday | Open 24 hours |
| Wednesday | Open 24 hours |
| Thursday | Open 24 hours |
| Friday | Open 24 hours |
| Saturday | Open 24 hours |
| Sunday | Open 24 hours |