Selected points of this article
hide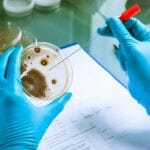 Kentucky COVID-19 Sanitizer Treatment: As businesses are trying to put the pieces together in the midst of the COVID-19 pandemic, Louisville KY-based Alpha Energy Solutions is pleased to offer Kentucky COVID-19 sanitizer treatment for disinfecting facilities. Since the unprecedented event that swept the globe with coronavirus, business leaders stress the need for safer, healthier buildings. We can provide a fast and effective service for your facility while using a cutting-edge device, SanitizeIT.
Learn more about SanitizeIT by reading further…
Our unique cleaning system helps you to achieve a building that is by all standards, Clinically Clean®. SanitizeIT works by applying a light mist throughout facilities to kill viruses, bacteria, mold, mildew, and strange odors. According to the Center for Disease Control, commercial day centers should be using the best infection control practices to reduce the spread of viruses throughout facilities. 
We Offer Kentucky COVID-19 Sanitizer Services
The viral spread can be circumvented by hand-washing activities, using hand sanitizer when soap is unavailable, and cleaning spaces with EPA-registered disinfectants. Even with the best preventative measures in place, some facilities happen to fall short.  As a Kentucky COVID-19 sanitizer treatment, Sanitize it is a potentially viable option. Furthermore, the disinfecting solution is non-caustic and non-corrosive, so it will not damage materials or hard surfaces. 
Commercial Spray Services in Louisville KY
Kentucky COVID-19 sanitizer needs are common in facilities where people spend a large percentage of their day. For example,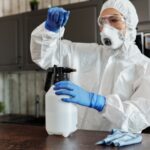 schools, offices, manufacturing facilities, warehouses, gyms, nursing homes, and hotels are all establishments that would benefit from a Kentucky COVID-19 Sanitizer.
Stopping the spread of infection in facilities is not just an issue happening at the moment. Facilities should consider routine deep cleaning to reduce the amount of particulate matter in a building. Germs can grow anywhere people frequent, so continuous rounds are necessary to ensure that spaces remain clean.
Are you interested in experiencing the benefits of a Kentucky COVID-19 sanitizer service for your facility? If so, contact us. Our service technicians in Louisville are on-call throughout the year, 24-hours a day, and 7-days a week to accept service calls. Reach out to our service experts to find out how we can help improve your facility's air quality.
It is paramount for facilities to be healthy so that businesses may continue to thrive. Maintaining a health facility is good practice. When it comes to commercial cleaning, the investment is worth keeping your employees and customers safe during unprecedented times and all the time.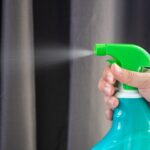 SanitizeIT is safe for use around humans and animals. The solution is non-toxic. Furthermore, the cleaning formula has been certified as safe by the NSF. For a non-corrosive alternative to harsh cleaning chemicals, then SanitizeIT is a great option.
Alpha Energy Solutions is an expert in commercial HVAC. To add to our list of capabilities, commercial disinfecting is a highly-effective choice for busy establishments looking to provide a cleaner environment for employees and customers.
Learn more. Contact us to ask about our commercial disinfecting services for commercial buildings and more. 
Alpha Energy Solutions
7200 Distribution Drive
United States (US)
Opening Hours
| | |
| --- | --- |
| Monday | Open 24 hours |
| Tuesday | Open 24 hours |
| Wednesday | Open 24 hours |
| Thursday | Open 24 hours |
| Friday | Open 24 hours |
| Saturday | Open 24 hours |
| Sunday | Open 24 hours |