Commercial COVID-19 Sanitizer for buildings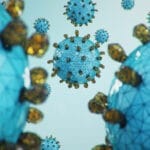 Topic about Commercial COVID-19 Sanitizer for buildings: While businesses across Louisville and the tri-state area attempt to recover from the devastating effects of the coronavirus pandemic, Alpha Energy Solutions is helping these Louisville-based facilities by offering a Commercial COVID-19 sanitizer for commercial buildings. Since the global pandemic that circled the world with COVID-19, companies are sensing pressure to provide safer facilities. However, we can offer swift and effective treatments for your commercial buildings with a helpful tool, SanitizeIT.
SanitizeIT is a potential Commercial COVID-19 sanitizer solution for commercial buildingsthat includes a safe formula. The compound is straightforward to use. Read on to learn how sanitizing IT can help your facility reduce infectious spread.
Our distinct Commercial COVID-19 sanitizer system enables facilities to achieve a cleaner building by higher standards—sanitize functions by applying a gentle mist throughout spaces to eliminate germs. Furthermore, based on information from the CDC, commercial day buildings should be incorporating the best practices for infection control. Infection control limits the spread of germs in buildings. 
Commercial COVID-19 Sanitizer to Improve Cleaning Procedures
The infectious spread can be greatly reduced by behaviors, including hand-washing and using hand sanitizer when soap is not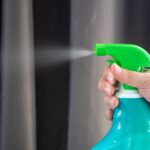 readily available. Cleaning spaces with EPA-approved disinfectants is also helpful. The problem, however, is that some cleaning methods are not as thorough. Companies can always do better to improve infection control. COVID-19 sheds light on the failings of companies to provide healthier environments for employees and customers. A Commercial COVID-19 sanitizer for buildings is worth considering as an effective cleaning method. 
SanitizeIT is, in fact, a safe product that is EPA-registered. Furthermore, the formula is also NSF-certified. NSF-certified indicates the product can be sprayed around food prep surfaces. SanitizeIt is not harmful to people or pets. Additionally, the cleaning solution is non-corrosive and non-caustic. The SanitizeIt disinfectant will not ruin fabrics or surfaces. 
Commercial Sanitize Solutions in Use
The demand for Commercial COVID-19 sanitizer is greater in facilities where many people gather. Examples of facilities that might benefit from a coronavirus sanitizer treatment are schools, daycare centers, medical clinics, gyms, industrial plants, hotels, and nursing centers.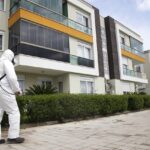 Limiting the spread of germs in buildings is not simply a current issue. Commercial facilities should think about routine disinfecting regularly to eliminate harmful particulates. Viruses can spread nearly everywhere people interact. Hence, frequent cleaning is necessary as a means of infection control. 
Seeking to learn more about the benefits of a coronavirus sanitizer treatment? Contact us to learn how our technicians can service your needs. We are on-call year-round to respond to service requests. Contact our Louisville-based service representatives to inquire about how we can help improve your facility. 
Commercial buildings need to maintain healthy environments. Healthier facilities mean businesses may continue to thrive without interruption due to illness. Employees and customers alike must realize that possible exposure to contaminants is a significant threat. Keeping a sanitized facility is merely good business practice.
Alpha Energy Solutions, in Louisville KY, can offer tailored service solutions for industrial and commercial clients. Our treatments can suit your budget. In commercial cleaning, it is worth the cost to maintain the safest facilities possible for employees and customers. 
Please inquire with us about the commercial sanitizer services department at Alpha Energy Solutions 7200 Distribution Dr, Louisville, KY 40258
Alpha Energy Solutions
7200 Distribution Drive
United States (US)
Opening Hours
| | |
| --- | --- |
| Monday | Open 24 hours |
| Tuesday | Open 24 hours |
| Wednesday | Open 24 hours |
| Thursday | Open 24 hours |
| Friday | Open 24 hours |
| Saturday | Open 24 hours |
| Sunday | Open 24 hours |