Selected points of this article
hide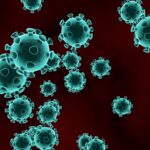 Excellent indoor air quality is vital for commercial facilities. HVAC systems can be employed to promote cleaner air with commercial sanitizer. Commercial sanitizer services through Louisville-based Alpha Energy Solutions offer bipolar ionization. Bipolar ionization is when a charge is taken from an atom to create ions. Discover why Global Plasma Solutions is a wonderful option for commercial HVAC sanitization.
Commercial sanitizer removes particles in the air and also on surfaces. Service technicians add Global Plasma Solutions to existing heating and cooling systems.  In the end, HVAC systems are subsequently effective at generating great use of energy while simultaneously triggering cleaner indoor airflow. Commercial sanitizer services from Louisville, KY-based Alpha Energy Solutions are ideal for commercial and industrial facilities. Our company specializes in commercial and industrial HVAC solutions. 
HVAC systems are crucial in sustaining quality air to breathe. Airflow that isn't clean limits performance effectiveness, financial earnings, and occupant wellness. Ventilation techniques are definitely the significant difference between a good building and potential air sickness, affecting people across all industries. 
Treating an HVAC system with commercial sanitizer offers a broad range of advantages. There is more to air systems than simply heating and cooling. With the proper solutions, an HVAC system has the ability to prevent the spread of viruses inside facilities.  Clean air standards mean that air should be free from viruses and pollutants. Commercial
Commercial Sanitizer & HVAC
Global Plasma Solutions will work at removing harmful organisms when attached to HVAC systems. Using a procedure widely known as bipolar ionization, the solution wipes out viruses throughout the ventilation system and on surfaces. To illustrate, if an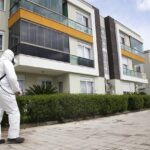 individual coughs or sneezes into the environment, the solution then eradicates the contaminants while circulating through a building.
Furthermore, through an intricate process, the Global Plasma Solutions system eliminates mold, reduces outside airflow flow, and saves energy expenses. In addition to airborne pathogens, germs are spread when someone transfers viruses through surface objects.  In the recent case of COVID-19, germs are airborne and reside on surfaces for several days. Due to the rapid spread of the virus, facilities are hurrying to decontaminate shared areas, sanitize workspaces, and ultimately provide better air to breathe. 
The completely new coronavirus is a common example of an airborne virus that also lives on surfaces. Bipolar ionization found in Global Plasma Solutions may be an effective measure to take against the spread of the virus.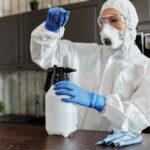 One of several primary aspects of decontamination that business owners ought to consider is the ventilation system. Global Plasma Solutions, when put into HVAC units, is a simple preventive measure that facilities can use.
The price to run HVAC systems is substantial. Due to this, effective measures are necessary to save on operational costs. For starters, HVAC units should provide reliable climate control. Finally, HVAC units provide better air quality. Bipolar ionization enables facilities to have greater control over air quality, energy efficiency, and infectious spread. 
Please find out how we can help with your commercial air quality needs with HVAC services. Contact us to learn more. 
Alpha Energy Solutions 7200 Distribution Dr, Louisville, KY 40258
Alpha Energy Solutions
7200 Distribution Drive
United States (US)
Opening Hours
| | |
| --- | --- |
| Monday | Open 24 hours |
| Tuesday | Open 24 hours |
| Wednesday | Open 24 hours |
| Thursday | Open 24 hours |
| Friday | Open 24 hours |
| Saturday | Open 24 hours |
| Sunday | Open 24 hours |