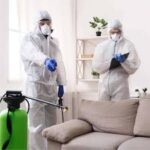 4 important tips for Commercial Sanitizer: As a commercial building owner or anyone in a commercial establishment, today know how critical it's to take appropriate measures to protect oneself and loved ones against the threat of harmful bacteria and viruses. Whether you need to clean surfaces, your floor sanitized, disinfect your furniture or dishes; Alpha Energy Solutions offers you a commercial sanitizer you need to keep your home and business sanitized. Our commercial sanitizer will keep dishes and surfaces clean and safe and prevent the spread of diseases.
Alpha energy solutions offer you tailormade commercial sanitizers that meet your specific service needs and a wide range of products to choose from. We offer you sanitizer in liquid form, powder, or solid form of commercial sanitizer, depending on your preference. We also give you ready-made commercial sanitizers that do not require dilution. We also offer you personally delivered services involved in commercial sanitizing and leave you with a memorable and satisfactory experience.
Before we carry out a commercial sanitizer process on your premises, we do the following
We first test surfaces within your commercial building. We do the testing using a luminometer to identify light that can come from cellular activity. From this measurement, we can tell how clean your surfaces are before disinfecting.
The second is the application of genesis surface treatment. This is a one-step cleaner and broad-spectrum sanitizer and disinfectant treatment. This solution eliminates foul smells and odors from the surface, killing a wide range of bacteria and viruses that may reside in your workplace or home without using harsh chemicals or fumes.
The third step involves applying a bacteriostatic finish, a water-based solution that imparts a durable bacteriostatic finish to several non-food contact surfaces. This procedure builds an indiscernible barrier that fights decline and staining and instead enhances freshness in your building for up to 3 months.
The fourth step is retesting surfaces after the surface disinfection and protectant services. We retest the surfaces to make sure that they have achieved the intended results. For the best results for your commercial sanitizing, choose Alpha Energy Solutions.
Commercial sanitizer machines
Alpha energy solutions give you the answer to your commercial sanitizing needs as we offer you a variety of commercial sanitizer machines. We have;
Electrostatic spraying machines
Electrostatics sprayer
Spray gun
Product efficacy and professionalism are our ultimate goals to exceed your expectations regarding keeping your surfaces clean. Our products have the most effective elements for cleaning and sanitizing available for commercial services in the market. You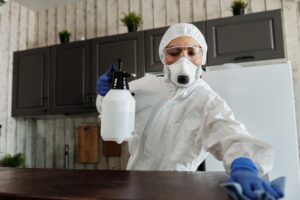 will experience a highly trained staff, and all your interactions with us will only ooze respect and professionalism. We also have vast experience and knowledge and have been 100% focused on sanitizing and disinfecting services.  Alpha Energy Solutions also uses state-of-the-art services. For these reasons, today, commercial space owners have higher expectations than before when it comes to keeping their surfaces clean for diners, to have a reason to bring back their customers.
As Alpha Energy Solutions, we understand the importance of creating a cleaner and more hygienic surrounding for those working and visiting commercial establishments. That's why we provide you with commercial sanitizers. Call us today, and let us keep your building safe.
Alpha Energy Solutions
7200 Distribution Drive
United States (US)
Opening Hours
| | |
| --- | --- |
| Monday | Open 24 hours |
| Tuesday | Open 24 hours |
| Wednesday | Open 24 hours |
| Thursday | Open 24 hours |
| Friday | Open 24 hours |
| Saturday | Open 24 hours |
| Sunday | Open 24 hours |