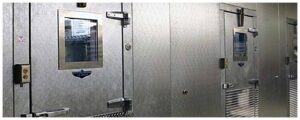 Correct maintenance of your commercial food and restaurant equipment not only guarantees a more sanitary and safe kitchen but also helps reduce energy costs, ultimately improving your bottom line. Learning the best way to clean and maintain your equipment properly will definitely save you time and money in the long run while creating a safe and healthy work environment.
Here are some tips to help you properly clean and maintain your commercial food and restaurant equipment.
Clean your equipment daily to prevent the build-up of dirt. Grease and food debris falling into equipment crevices cause unneeded wear.
Create an equipment service logbook to help you set up and follow a regular equipment maintenance schedule.
Regularly scheduled maintenance should include cleaning and calibrating commercial ovens, checking walk-in cooler temperatures, and cleaning dishwashers, and other commercial food equipment.
Consult your equipment manuals for proper cleaning instructions and types of cleaning solutions that can be used to prevent damage to your equipment.
Talk to your manufacturer rep if you are unsure of the correct way to clean a particular restaurant or commercial food and restaurant equipment item. Keep manuals for all your equipment. Request a new manual from the manufacturer if yours is lost.  Most manufacturers keep manuals for older, discontinued models as well as new ones.
Set up a service contract for your commercial food and restaurant equipment with a local Commercial  Food and Restaurant Equipment Service Provider. They will ensure your equipment stays in peak condition with regular fine-tuning and maintenance. This is a key factor in extending equipment life and saving energy costs.
Look for easy to clean equipment when purchasing new restaurant equipment. Something that can be quickly disassembled and reassembled will save you a great deal of cleaning and maintenance time.
Store small commercial food equipment such as blenders and cutters in cabinets when not in use. This will help reduce their exposure to unnecessary dirt and grease or from being knocked over or dropped.
Alpha Mechanical Service's commercial Food and Restaurant Equipment Service division provides top-quality Commercial food and restaurant equipment maintenance and repair service. We're available 24/7 for emergency service or scheduled equipment maintenance. Call Alpha at (888) 212-6324 to learn how we can help extend the life of your commercial food and restaurant equipment through a regular maintenance program.
Alpha Energy Solutions
7200 Distribution Drive
United States (US)
Opening Hours
| | |
| --- | --- |
| Monday | Open 24 hours |
| Tuesday | Open 24 hours |
| Wednesday | Open 24 hours |
| Thursday | Open 24 hours |
| Friday | Open 24 hours |
| Saturday | Open 24 hours |
| Sunday | Open 24 hours |