Selected points of this article
hide
Spare Parts for Industrial Chiller Repair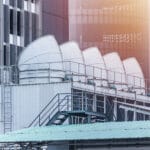 In commercial installations, the need for Industrial chiller repair is not uncommon. In harsh environments, chiller units experience tension, leading to wear. In fact, temperature control systems are important for commercial facilities year-round.
Commercial chillers provide comfortable temperatures in buildings. Additionally, the equipment is a large investment and, therefore, must be maintained. Preventative maintenance, spare parts, and replacement are all helpful in the upkeep of chillers. 
Alpha Energy Solutions provides commercial and industrial buildings with skilled Industrial chiller repair. Moreover, chillers are complex air units and require expertise. Furthermore, the service technicians at Alpha Energy Solutions deliver over 2000 years of combined field experience. 
Industrial Chiller Repair Experts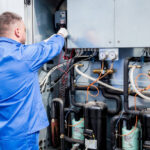 Attempting an Industrial chiller repair without the help of a commercial HVAC expert can be dangerous. Service technicians are equipped with the right tools and knowledge to handle a major repair job. Chillers include intricate parts that some end-users have not had experience with. Rather than spending additional money on subsequent fixes, working with a technician the first time will save. Alpha Energy Solutions is capable of meeting the needs of commercial businesses through decades of experience. Clients can expect responsiveness and industry-leading service.
The service technicians at Alpha Energy Solutions are on-call 7-days a week to respond to service calls. Addressing jobs, both large and small, service technicians specialize in commercial and industrial chillers' upkeep. Alpha Energy Solutions covers a wide spectrum of HVAC services, from delivery and installation to service and parts.
Repair and Service Options
Professional service technicians at Alpha Energy Solutions handle all of the major brands. In fact, service technicians can perform retrofits of common chiller parts onto existing units. Moreover, the service technicians can provide optional preventative maintenance activities on units. 
Alpha Energy Solutions is a reliable source for urgent repairs and standard service for commercial and industrial chillers. Companies cannot afford to delay service due to the nature of commercial cooling systems. Commercial chillers play a significant role in large and complex facilities. As a result, keeping HVAC units under an expert service technician's care will provide an ideal outcome. 
For routine service and emergency repair for chillers, Alpha Energy Solutions will answer the call. Repair services through the region's best HVAC company will limit operational downtime and, most importantly, save cost. 
Chiller Units and Extended Performance
Industrial Chiller repair services a special purpose for commercial and industrial cooling units. When chillers are repaired, end-users can gain more use from the systems. Furthermore, repair also reduces the time spent offline. Additionally, faulty chillers waste energy. To save on energy expenses, repairs should be performed to boost efficiency. 
Alpha Energy Solutions specializes in air-cooled and water-cooled units. In fact, service technicians can render care of medical equipment chillers, and refrigeration units. Additionally, the range of service options includes centrifugal and open drive Industrial chiller repairs.
Chillers range in size and capacity to fit 1 ton to 5000-ton units as well as low-temperature systems. There is no job too small or too large for Alpha Energy Solutions. Clients can work with service technicians to return faulty units to service quickly. 
Contact us to inquire about chiller services, repair, and more.
Alpha Energy Solutions
7200 Distribution Drive
United States (US)
Opening Hours
| | |
| --- | --- |
| Monday | Open 24 hours |
| Tuesday | Open 24 hours |
| Wednesday | Open 24 hours |
| Thursday | Open 24 hours |
| Friday | Open 24 hours |
| Saturday | Open 24 hours |
| Sunday | Open 24 hours |