Selected points of this article
hide
Expert Chiller Repair Louisville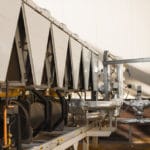 Chiller repair Louisville is a necessary part of maintaining a cooling system. Although chillers are ultimately reliable in commercial settings, frequent wear may lead to damage. Repair issues should be handled by an experienced HVAC professional. Commercial buildings and also industrial facilities have unique requirements that may only be met with expert care. The troubleshooting of chillers should be left to service technicians that specialize in the large capacity cooling units.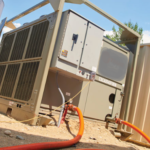 Technicians at Alpha Energy Solutions have over 2000 years of field experience combined. We specialize in commercial and industrial HVAC equipment and services. As a result, we can handle chiller repair Louisville on units ranging in size from the smallest available capacity to the largest market. We work with all of the major brands in HVAC and can support repair needs with quality service and parts selection. Whether you need a repair performed on an air-cooled chiller or a water-cooled chiller, you can trust that our technicians will be able to provide ongoing care for your equipment.
Chiller Repair Louisville Scenarios
A chiller may need repair due to overuse. The equipment is operated in harsh environments. Understandably, the constant use of heavy machines and the multiple applications in which they are applied may cause system components to break over a period of time. Broken components, both large and small, may lead to serious issues if not handled quickly. Chiller repair Louisville is often necessary to preserve the full operation, saving facilities on many expenses.
Issues such as poor cooling, leaking components, and excessive energy use may indicate that chiller repair is needed in a commercial or industrial facility. The units should be monitored regularly to predict any performance issues. Even with careful monitoring, however, the equipment may malfunction. Alpha Energy Solutions can help your equipment back with service expertise.
Alpha Energy Solutions
7200 Distribution Drive
United States (US)
Opening Hours
| | |
| --- | --- |
| Monday | Open 24 hours |
| Tuesday | Open 24 hours |
| Wednesday | Open 24 hours |
| Thursday | Open 24 hours |
| Friday | Open 24 hours |
| Saturday | Open 24 hours |
| Sunday | Open 24 hours |