Selected points of this article
hide
Commercial Chiller Repair
Have you discovered a performance issue with your chiller? If that is the case, contact Alpha Energy Solutions to request Commercial chiller repair. Trying to repair a chiller without help can be dangerous. The systems are complicated and contain numerous parts. We always suggest reaching out to a technician experienced in commercial HVAC. In fact, we specialize in all of the aspects of heating and cooling and repairs for your chiller.
When a chiller is not functioning properly, it will be evident in its cooling performance. A chiller that is broken will cause productivity to decline rapidly. Moreover, broken chillers may lead to serious profit loss. Additionally, when a chiller stops working correctly, the equipment may create some unnecessary hazards. Any chiller issue that happens within a commercial or industrial facility's confines should be addressed without hesitation.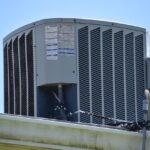 If you consider Alpha Energy Solutions a leading source for Commercial chiller repair, getting an expert technician is not difficult. We are on-call 24-hours a day and 7-days per week. In fact, we deliver over 2,000 years of field experience combined. Furthermore, we have a large network of distributors from which we gather the industry's best equipment. Our connections enable us to acquire the parts that you need faster.
Commercial Chiller repair should be performed as quickly as possible so that systems can get back online. Access to parts is important for commercial and industrial facilities. Because we can source parts faster, and reduce the time it takes to turn around service on a call. The experience of reaching out to a service provider and waiting days for a response can be frustrating. We understand the needs of businesses and can respond with care.
Commercial Chiller Repair and Maintenance
Dealing with a broken chiller can be a hassle; however, repair needs are common. Heavy machines will need work done due to wear and extended use. Reducing outages, however, is possible with preventative maintenance. Our clients have access to preventative maintenance options, which helps HVAC systems, including chillers, that undergo heavy use.
Our chiller service capabilities are extensive and include parts retrofitting, oil analysis, refrigerant checks, and vibration analysis. We also specialize in tear-down and Commercial chiller repairs.
Our preventative maintenance program is formulated to meet your budget. Moreover, you can customize the maintenance program to match the needs of your HVAC system. Preventative maintenance options include an array of services such as 25/7 monitoring, inspection and reporting, and predictive maintenance. Choosing Alpha Energy Solutions as your service provider will foster a longer life cycle for your HVAC equipment.
Contact us to learn more about how we can help with your Commercial chiller repair needs and maintenance requirements.
Alpha Energy Solutions
7200 Distribution Drive
United States (US)
Opening Hours
| | |
| --- | --- |
| Monday | Open 24 hours |
| Tuesday | Open 24 hours |
| Wednesday | Open 24 hours |
| Thursday | Open 24 hours |
| Friday | Open 24 hours |
| Saturday | Open 24 hours |
| Sunday | Open 24 hours |