Industrial Chiller Rental Supplies for Commercial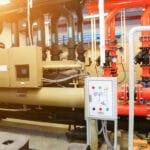 As a result of many industry selections, picking out an Industrial chiller rental can often be complicated. Working with a proven HVAC expert to seek out Industrial chiller rental supplies takes far less time. Alpha Energy Solutions is an HVAC leader with skills in tackling large industrial and industrial chillers. In fact, we handle all of the major manufacturer brands in heating, cooling, and ventilation.
As a large regional service provider,  clients can choose equipment from us, which provides exemplary functionality.  An Industrial chiller rental is a complex machine that requires specialized care. Furthermore, the equipment matches a vast selection of applications for a wide range of companies. Additionally, Industrial chiller rental supplies are, in fact, well suited for limited projects. Moreover, the equipment delivers outstanding worth because it helps to keep operations running smoothly. We supply rented chiller systems from the very best brands in HVAC. Our customers depend upon the caliber of our equipment to deliver optimal performance.
Rental Chiller Equipment
Rented chillers tend to ordinary wear as a result of heavy-duty usage. A successful alternative for cooling Industrial chiller rental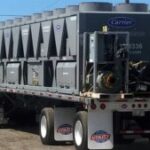 devices, once applied, is effective. The leasing components might be properly used for short-term cooling needs. Chillers can also be deployed in many diverse settings, for example, commercial and industrial. On-call availability will help fulfill urgent requirements. Furthermore, the equipment provides environmentally-friendly options as well as high-volume choices.
Chillers may also be used in industrial plants. Leased air systems are trustworthy. However, they may undergo trouble due to significant utilization. Service experts can address performance needs with expertise. Additionally, we can handle both air-cooled and water-cooled units. Do not hesitate to get in touch with Alpha Energy Solutions for service. Delaying service on a chiller, whether for maintenance or repair, may lead to lost productivity in busy centers.
Chiller Units Available for Commercial Use
In addition to regular service for rental chillers, we also provide preventative maintenance programs. The preventative programs are budget-friendly and, most importantly, economical. Preventative maintenance services include system reports, status checks, and seasonal maintenance. The information that we provide from maintenance programs can help end-users maintain their units with ease. Potential clients will soon discover all of the benefits of planned maintenance packages.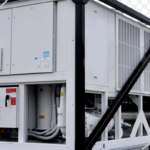 Our clientele, both commercial and industrial, depends on Alpha Energy Solutions to provide industry-leading materials and services to support heating and cooling needs. As a reliable resource with an extensive supplier network, we can provide parts, equipment, and service solutions tailored to your unique facility. Obtaining the best brands in the HVAC industry is easy. Deal with Alpha Energy Solutions for your next rental or parts requirement.
Browse our equipment and service selection for commercial HVAC. Rental chillers are several among many offerings available to complex facilities in need of temperature control capabilities. With over 2000 years in the industry, we are on-call year-round to answer your service requests.
Contact us to ask about our rental chiller equipment for commercial applications.
Alpha Energy Solutions
7200 Distribution Drive
United States (US)
Opening Hours
| | |
| --- | --- |
| Monday | Open 24 hours |
| Tuesday | Open 24 hours |
| Wednesday | Open 24 hours |
| Thursday | Open 24 hours |
| Friday | Open 24 hours |
| Saturday | Open 24 hours |
| Sunday | Open 24 hours |