Selected points of this article
hide
A Source for Chiller Rental Louisville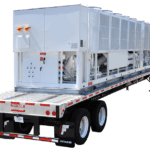 Alpha Energy Solutions is the premier source for chiller rental Louisville equipment. Commercial buildings and also industrial facilities use chillers for a wide range of applications. The units may be applied as an approach to meet the demands of temporary cooling needs. Also, in emergencies, rented chillers help provide cooling. Our range of equipment includes air-cooled and water-cooled chillers. Technicians at Alpha Energy Solutions are handling calls 24/7 in regards to service and equipment. Consider a chiller rental for your next project or if you are dealing with an emergency.
A chiller rental Louisville solution is a reasonable investment. Facilities requiring temporary cooling may deploy a unit that is essentially gentle on the budget. The machines are known for being energy efficient, which means that they deliver savings along with performance. How chillers are applied, does vary across the many different industries that put them to use. For this reason, clients often need the ability to choose between different models. There isn't a single model that is fit for every situation. We offer a great selection from many of the top names in the HVAC industry. Equipment sourced through our experts is backed by manufacturer warranties and, without a doubt, quality service.
Maintenance and Your Chiller Rental Louisville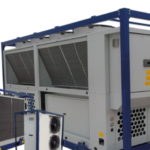 Chillers are heavy machines. Although the equipment is durable, a chiller rental Louisville supplied should still be maintained properly. Maintenance requirements will vary depending on how chillers are deployed and their length of time in operation. Regardless of how a chiller will be used, scheduled maintenance will keep it up to date.
Chillers should be cared for by an experienced technician capable of monitoring the system and reporting any potential issues. Technicians can inspect units for wear, leaks, and broken parts. Adequate care for chiller units delivers the best possible performance in the most critical of situations.
Alpha Energy Solutions
7200 Distribution Drive
United States (US)
Opening Hours
| | |
| --- | --- |
| Monday | Open 24 hours |
| Tuesday | Open 24 hours |
| Wednesday | Open 24 hours |
| Thursday | Open 24 hours |
| Friday | Open 24 hours |
| Saturday | Open 24 hours |
| Sunday | Open 24 hours |