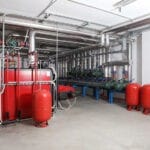 If your commercial boiler is not heating properly, then it might need a Louisville KY boiler service. When your boiler starts to make unusual sounds, contact Alpha Energy Solutions. We are pleased to offer our expert opinion to each of our clients. Our service technicians bring over 2,000 years of combined field experience to every job.
A broken boiler in a commercial facility is certainly a serious issue. Not only do faulty boilers cost you precious time, but they also cost you additional money. Furthermore, a broken boiler can cause serious damage to facilities. If you suspect that you will require a Louisville KY boiler service, contact a service technician at Alpha Energy Solutions.
Not all boiler problems constitute an emergency, but rest assured that we are on-call if something unexpected happens. Our service technicians are available to assist with service calls 24/7. If you notice anything strange taking place with your heating system, keep in mind, give a call in for service without hesitation. Faulty boiler systems create uncomfortable environments. Additionally, if boilers do not function properly, you may experience higher energy bills.
Louisville KY Boiler Service You Can Trust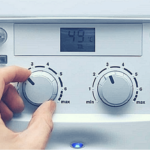 Searching for a reputable Louisville KY boiler service provider may feel like a cumbersome task at first. Honestly, it doesn't have to be. Anyone handling commercial heating systems should be an expert in the field of HVAC. Our technicians are trained to handle jobs both large and small. We understand the fine details of commercial boiler parts.
As a result, we can troubleshoot complex issues with your boiler unit. Due to our expertise, we work with all of the leading HVAC manufacturer brands. Because we have an excellent network of distributors, we are capable of obtaining parts as well. Parts access enables us to respond to your service needs without delay.
Louisville KY Boiler Service and Equipment Support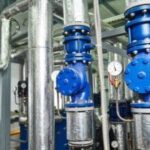 Alpha Energy Solutions works diligently to get your heating systems up and running. Because not all service needs are due to an emergency, we also offer boilers ongoing support to keep them operating smoothly. In fact, we have preventative maintenance plans as an option for our customers. Maintenance is a critical part of upkeep as boilers are expected to deliver a high level of performance at all times. Facilities depend on boilers to provide the right amount of heating to comfort or fuel activities within an establishment.
Our Louisville KY boiler service options include inspections of your unit and control devices. We also observe your equipment to ascertain if there has been any wear, such as corrosion. Additionally, we will inspect your system's sealing, fluids, pressure, and glasses. Boilers consist of various parts that may collect a build-up of materials, and as a result, our technicians will also provide a clean-up of certain parts if necessary. Once the service is complete, you will receive an assessment with details about the future reference job. Boilers require constant upkeep to include service so that they can perform well.
Contact us to learn more about how we can help with your service needs for your commercial boiler.
Alpha Energy Solutions
7200 Distribution Drive
United States (US)
Opening Hours
| | |
| --- | --- |
| Monday | Open 24 hours |
| Tuesday | Open 24 hours |
| Wednesday | Open 24 hours |
| Thursday | Open 24 hours |
| Friday | Open 24 hours |
| Saturday | Open 24 hours |
| Sunday | Open 24 hours |