Selected points of this article
hide
Louisville Kentucky Boiler Service Preparations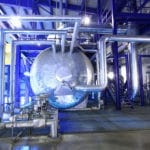 Louisville Kentucky Boiler service may not always be at the front of your mind due to how durable they are; however, it is necessary for a commercial building. The technicians at Alpha Energy Solutions are experienced in HVAC with a combined 2,000 years of experience working in the field on units of all sizes. Boilers in demanding environments need regular service to maintain the best performance. Although your boiler may not be having issues at the moment, monitoring the equipment will help you prepare for the unexpected.
Alpha Energy Solutions is both an equipment and service provider. In addition to our field experience, we also have a strong network of distributors from which we can acquire parts in a Louisville Kentucky boiler service need. Parts access is just one of many capabilities that we offer commercial clients who rely heavily on complex boiler systems within their businesses' confines. Large industrial facilities also utilize boilers for several applications, requiring constant care.
Louisville Kentucky Boiler Service Performance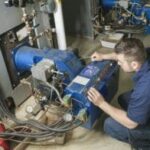 The best way to ensure that a commercial boiler will deliver ideal performance is to have it placed on a maintenance program. Alpha Energy Solutions offers Preventative Maintenance Programs designed for upkeep. Our technicians can monitor your systems and report back on the status. Moreover, they will conduct diagnostics and predictive maintenance. The plans can be custom-suited to fit your units and developed to meet your budget.
While troubleshooting a boiler system internally may seem like a tempting idea. It is always best to consult a technician to conduct necessary checks to ensure that your unit performs properly. If issues are discovered, our service technicians can support the repair of your machines without delay. Maintaining a commercial boiler system requires consistent upkeep and frequent monitoring. Enlisting the help of a service technician will free up additional time that would be otherwise spent troubleshooting.
Contact us to explore our Louisville Kentucky boiler service capabilities.
Alpha Energy Solutions
7200 Distribution Drive
United States (US)
Opening Hours
| | |
| --- | --- |
| Monday | Open 24 hours |
| Tuesday | Open 24 hours |
| Wednesday | Open 24 hours |
| Thursday | Open 24 hours |
| Friday | Open 24 hours |
| Saturday | Open 24 hours |
| Sunday | Open 24 hours |