Louisville Boiler Repair for Commercial and Industrial Facilities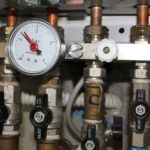 Louisville Boiler repair is often a necessity when your system is broken. If you experience an issue with your machine and suspect you need repair, contact Alpha Energy Solutions. We specialize in HVAC for both commercial and industrial facilities. Since some boiler issues can be unexpected, you can rely on Alpha Energy Solutions technicians to be on-call to handle your service needs 24-7.
Boiler systems found inside large facilities or commercial buildings require the attention of a trained expert in the field. At Alpha Energy Solutions, our technicians have over 2000 years of experience combined. Consider us as your top source for information regarding HVAC, including boilers.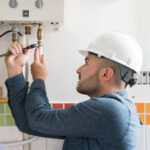 We deal with boilers of all sizes and capacities. Considering the critical role that boilers play in providing heating for buildings, any downtime can be costly, and we understand this. In the vent of Louisville boiler repair, our technicians will assess your situation and, if repair is needed, access the resources to get the job done.
In HVAC, time is of the essence, and therefore, Louisville boiler repair should never be delayed. If you suspect that there is something wrong with your unit, do not hesitate to contact a service technician.
Signs You Need Louisville Boiler Repair
Loud noises
Hissing sounds
Banging sounds
Lack of heat
Leaking water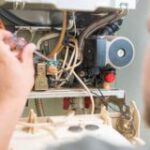 If your boiler shows any of the signs above, contact a service technician as soon as possible for assistance. A thorough examination of your equipment will help the technician determine the cause for concern. After a proper assessment, your technicians will make recommendations, which may include repair.
Although the technicians at Alpha Energy Solutions are on-call to handle service needs, including emergencies 24-hours per day, additional options may help circumvent major repair issues.
Preventative Maintenance Programs by Alpha Energy Solutions are available for your boilers. The maintenance program can be customized to meet your machine and specific requirements. Through the Preventative Maintenance Programs, you can feel more confident with status updates, systems reporting, seasonal service, and predictive maintenance. The maintenance program aims to keep your system running efficiently with a little interruption while anticipating any potential repair needs and managing them before they occur.
Alpha Energy Solutions
7200 Distribution Drive
United States (US)
Opening Hours
| | |
| --- | --- |
| Monday | Open 24 hours |
| Tuesday | Open 24 hours |
| Wednesday | Open 24 hours |
| Thursday | Open 24 hours |
| Friday | Open 24 hours |
| Saturday | Open 24 hours |
| Sunday | Open 24 hours |