Selected points of this article
hide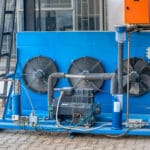 Kentucky Chiller Rentals: Chillers are an essential component in the industrial processes to churn out the best possible products at the end of the process. These types of machinery are supposed to keep the temperature at a lower level with the help of different processes, including absorption or adsorption refrigeration cycles along with combustion or compression. A new chiller is kind of expensive depending on your requirements, so many turn towards Kentucky chiller rentals. But before doing that, here are some points that you should be aware of when looking for Kentucky chiller rentals.
Calculation Of Cost for Kentucky Chiller Rentals
When thinking of renting a chiller, calculate on average the usage of the machinery. Separately, calculate the monthly rent, plus the required maintenance fee along with potential repair costs, and then compare the annual costs with the price of buying a new chiller. If you have the budget and can afford to buy a new one, consider doing just that if these calculations show you that renting will cost you more than buying over a period of time.
Specs And Working Quality Of Kentucky Chiller Rentals
The next thing that you need to focus on is the specifications of the chiller. Keenly observe if everything can meet your requirements or not. After you have decided on the model, get it checked thoroughly by a professional to determine its performance quality, energy consumption, and additional costs incurred from usage.
The Reputation Of Rental Company
You are going to use something that is not your property, so it is understandable if you look at the reputation of the business that is renting out its property to you, that might be best. If anything happens in the future, they will take responsibility without any fuss.
Terms And Conditions Of Contract
Before signing the contract, please discuss all the terms yourself beforehand. Don't trust the other person to do your work for you. Research and discuss with the company what happens in the case of damages caused during transportation or in your use. Also, hammer out the details in case you need to end the contract prematurely for many reasons.
Decision On Extra Expenses for Chiller Rentals
It is essential that you discuss who will be responsible for expenses like transportation, regular maintenance, repair or replacement, etc. You also need to discuss what happens in case of extensive repairs and who is going to be responsible for that.
Conclusion
In the long run, a bought chiller is much better than a Kentucky chiller rental because it helps save money from broad expanses for some time. Nevertheless, there are numerous occasions when the option of buying a new one is not suitable for the whole situation, and the Kentucky chiller rentals might be the only viable solution to the problem. So when going for the latter, you do not need to be as careful as when you should be when buying your one but do give proper attention to the details of the contract so that you might not be caught by any unpleasant surprise later on.
Alpha Energy Solutions
7200 Distribution Drive
United States (US)
Opening Hours
| | |
| --- | --- |
| Monday | Open 24 hours |
| Tuesday | Open 24 hours |
| Wednesday | Open 24 hours |
| Thursday | Open 24 hours |
| Friday | Open 24 hours |
| Saturday | Open 24 hours |
| Sunday | Open 24 hours |