Selected points of this article
hide
Kentucky visitor management involves welcoming and monitoring visitors at workplaces or other facilities. There are various tools used to perform these functions and are referred to as visitor management systems. Some of these tools include surveillance cameras, biometric scanners, and even logbooks. Ranging from basic to very sophisticated software, these tools are applicable in any organization; schools, businesses, large corporate offices, you name it. This practice is essential because it guarantees safety at the workplace.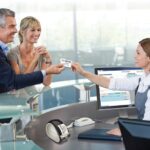 In schools, learners' safety is paramount; with the many instances of school violence, it is hard to tell where danger lucks. However, Kentucky visitor management tools are a great start to the prevention of this violence. Many tools can ensure that guests are processed at the entrance effectively before they access the school. Additionally, other tools scan them against pre-installed lists and ensure that those who were banned do not come back.
Some devices can be used to provide quick evacuation of students from the premises in cases of emergencies. Even outside school and home, children are still exposed to harm. Most Kentucky visitor management systems have features that can help you protect your children from sexual predators by allowing you to download the predator registries and deny such people from reaching your children.
In workplaces, a safe work environment for employees motivates them, and as a result, there is an increase in the company's productivity. There is nothing that beats a settled mind, especially when it comes to working. An employee who knows that no one gets unauthorized access into the company will function more comfortably than one who will have to continually look over their shoulders as if expecting an intrusion any minute. The restlessness will interfere with how the employee would focus on the work at hand.
Without that focus and undivided attention, the quality of work that employees would do would be below average. Video management systems do more than track whoever gets into the company premises. Advanced techniques can limit where these guests go; they can inform you when visitors have overstayed their visit and screen them against publicly available background data to know who you are letting into your building.
These management systems are very beneficial for large offices that cannot keep track of every visitor who gets into their premises. Other techniques include safety waivers and Non-Disclosure Agreements.
Numerous benefits come with Kentucky visitor management systems
There is comfort in a working environment that ensures the security of its employees. Such an environment creates comfortability as employees interact with customers.
Trust and a good reputation are things that any company would want to win in its customers. Once customers realize that a company has created mutual trust between them and the employees, they recommend it to their friends and give good reviews. A serious security system translates to even more profound ways in how business is handled there.
Kentucky Visitor management systems help to prevent theft and vandalism.
It is more cost-friendly and efficient compared to other security solutions. It is also flexible and scalable, and you can select only the features that are useful to you.
Alpha Energy has efficient Kentucky visitor management systems that increase visitors' flow speed and enhance their experience in your company. There are also apt technicians to guide you through the right choice of systems.
Alpha Energy Solutions 7200 Distribution Dr, Louisville, KY 40258
Alpha Energy Solutions
7200 Distribution Drive
United States (US)
Opening Hours
| | |
| --- | --- |
| Monday | Open 24 hours |
| Tuesday | Open 24 hours |
| Wednesday | Open 24 hours |
| Thursday | Open 24 hours |
| Friday | Open 24 hours |
| Saturday | Open 24 hours |
| Sunday | Open 24 hours |