Selected points of this article
hide
Kentucky SanitizeIT is a service that encompasses more than sanitizing; it also deals with disinfecting and deodorizing spray. These services are all found at Alpha Energy Solutions. They aim to provide safe services for you and the service providers; they are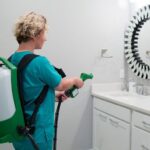 very effective treatments that ensure that where they are applied, they leave the area free of germs and other allergens.
This range of treatment is fragrance-free and sets new standards in the sanitization industry, being the first and only treatment of its kind in residential homes and commercial setups. Kentucky SanitizeIT is a very effective treatment in health facilities, with a hospital-grade disinfectant that is EPA registered. This disinfectant is efficient in ensuring fragrance-free sanitizing, offering quality disinfection, and deodorizing the facilities.
Kentucky SanitizeIT has a lot of functions like removing odor. This spray system instantly eliminates these unpleasant smells in less than 10 minutes. So for instant elimination of odor from your facilities, use the Kentucky SanitizeIT spray to eradicate this, leaving your environment void of unpleasant and nasty smells. Kentucky SanitizeIT spray also eliminates mildew and mold in the house, office, and HVAC system.
This lowers the probability of you getting allergies and other infections like sinuses and asthmatic conditions. Kentucky SanitizeIT provides a new and safe environment for you and your clients and gives you the comfort you deserve at your workplace or even your residence.  Alpha Energy Solutions provides this spray system to ensure you get the best out of three in one spray for an affordable price and guarantees you instant results.
Kentucky SanitizeIT saves time and money
Kentucky SanitizeIT spray system addresses the need to thoroughly disinfect high-touch essential resources such as grocery carts or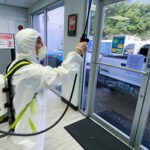 wheelchairs. It is a good option for your worth your money and your consideration. It saves you time and money because of its versatile nature with deodorizing, cleaning, and disinfecting all at once. This system can be used as an effective treatment, especially during this time when we are faced with an ongoing global pandemic.
It can be a protective measure against viruses and other bacterial infections that are mostly airborne. The Kentucky SanitizeIT spray system is designed to disinfect and sanitize surfaces like walls, floors, ventilation, and other structures. It can sterilize hospital equipment and prepare them for use or even prevent the next person from coming into contact with contaminants when handling various tools in a hospital setup.
Kentucky SanitizeIT spray system offers indoor disinfectant services using methods that envelop all the areas, including hard-to-reach places. This spray system can sterilize an extensive area in a short time. This is very convenient for businesses that cannot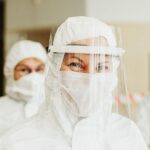 afford to make losses by losing an entire day of potential productivity to cleaning and disinfecting.
You can kill two birds with one stone, have a productive day, and still have your business premises or house disinfected. This is very beneficial, especially to hospitals that offer essential services and cannot be closed down for cleaning only. Alpha Energy Solutions provides you with this effective spray system for your sanitizing needs.
Alpha Energy Solutions 7200 Distribution Dr, Louisville, KY 40258
Alpha Energy Solutions
7200 Distribution Drive
United States (US)
Opening Hours
| | |
| --- | --- |
| Monday | Open 24 hours |
| Tuesday | Open 24 hours |
| Wednesday | Open 24 hours |
| Thursday | Open 24 hours |
| Friday | Open 24 hours |
| Saturday | Open 24 hours |
| Sunday | Open 24 hours |