Selected points of this article
hide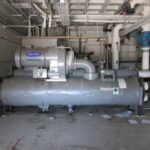 Before you go for an Industrial chiller rental, here are tips that we at Alpha Solutions would like to help you make a wise decision. You have to determine which type of chillers you want to use. You have to look at your process cooling application, and whether your chiller product's temperatures will be kept stable or varying.
Whether the purpose is to keep a space cool or you want to cook something. Finding out these things with precision and specificity will help you determine the kind of Industrial chiller rental option that is best suited for you, and Alpha Energy Solutions is your answer to these questions.
Useful tips for Industrial Chiller Rental
Other than determining the type of Industrial chiller rental product you would go for, it is also essential for you to even look at the Industrial chiller rental of power needs. This should not be taken lightly because you would not like to have a situation where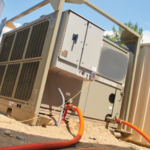 you have an insufficient power supply for your chiller. Incurring another extra cost added to what you had already budgeted is what we are trying to avoid by inquiring about your power needs.
Therefore, you need to know the availability of power for your chiller, whether you have sufficient power available to run the chiller, or you will also have to rent a backup like a generator to boost your power supply to enable smooth operation of the chiller. It is necessary to do this, keeping in mind that chillers have high power consumption, planning power sources ahead of the renting will save you from last-minute surprises.
After looking into the type of Industrial chiller rental and the amount of energy it needs, you have to know the chiller size you will need for your services. Here, you have to understand your heat load to avoid renting a chiller that cannot remove the required heat. Therefore, you have to know the amount of heat load that you need to be removed. You also need to know the amount of heat that has to be removed from your system and the environment's conditions that which you will use your chiller.
Knowing all these will help you effectively decide on the chiller's size to rent from Alpha Energy Solutions. Our exceptionally well-trained and licensed professionals will be by your side and help you go through all these questions to ensure whatever chiller you decide to rent after determining the size, type, and power needs are the chiller that works best for you.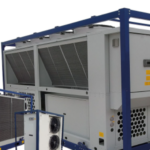 Chillers are divided into water-cooled chillers and air-cooled chillers. This division is based on the cooling principle. These two types have the evaporator, condenser, expansion valve, and compressor; the only difference is the cooling principle.
It is essential to understand the different water-cooled and air-cooled chillers' applications to know which type of cooler will serve your purpose for you. Chillers cool things by removing heat using vapor-compression or absorption refrigeration. Alpha Energy Solutions has all kinds of chillers you would want to explore and one that would serve your need for cooling things.
Alpha Energy Solutions 7200 Distribution Dr, Louisville, KY 40258
Alpha Energy Solutions
7200 Distribution Drive
United States (US)
Opening Hours
| | |
| --- | --- |
| Monday | Open 24 hours |
| Tuesday | Open 24 hours |
| Wednesday | Open 24 hours |
| Thursday | Open 24 hours |
| Friday | Open 24 hours |
| Saturday | Open 24 hours |
| Sunday | Open 24 hours |