Many industrial plants and facilities use Industrial boiler systems, which produce steam that circulates through piping for heating or process purposes.  Industrial boiler systems are major financial investments, so proper installation and preventative maintenance are essential to protecting that investment and improving safety and accident prevention.
Types Of Industrial Boilers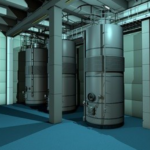 Industrial boilers are classified into three main types: Fire-tube boilers, Water-tube boilers, and electric boilers. Fire-tube boilers rely on hot gases that circulate through boiler tubes submerged in a tank of water. The heat produced by the hot gases in the tubes boils the tank's water to produce steam. In Water-tube boilers, steam is produced when water-filled tubes are heated by gas flowing over and around them. Electric boilers produce hot water or steam using electric-powered elements to heat the water inside the boiler.
Industrial Boiler Maintenance Plans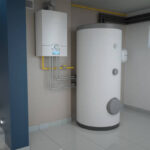 Whatever the type of Industrial boiler system, an industrial Boiler Efficiency and Maintenance Plan should be in place. The best plan includes daily, weekly, monthly and annual inspections and maintenance procedures performed by qualified, trained technicians. Often process boiler failures are caused by overheating due to low water levels, scale deposits on waterside surfaces, and corrosion. Many times this is a result of little or no boiler system preventative maintenance.
Proper equipment procedures and maintenance guideline materials should be readily available to key personnel for reference when needed. Employees should be familiar with and follow manufacturer guidelines and state regulations regarding periodic service, maintenance, and inspections of all equipment and systems.
Daily inspections can be performed by qualified plant personnel, but utilizing a mechanical contractor's services with experienced and highly trained boiler technicians is essential to keeping your boiler system operating at peak efficiency. Unexpected boiler equipment failure means loss of production time and revenue. By utilizing an experienced boiler system service provider for customized boiler system preventative maintenance, you will cut down on unplanned emergency repairs and save energy costs by improving your boiler's operating efficiency.
The Bottom Line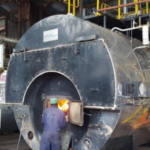 The safe and efficient operation of your boiler and system operating controls depends on the performance of routine inspections, cleaning, and maintenance by qualified personnel. Commercial and industrial boiler repair, boiler maintenance, and boiler installation are primary specialties of Alpha Mechanical Service, Inc. Visit Alpha Boiler Services to learn more about how Alpha can meet your boiler system's needs and requirements, whether it is scheduled industrial boiler maintenance or emergency industrial boiler repairs.
Resources and Additional Information:
Indiana.gov Boiler and Pressure Vessels
West Virginia Division of Labor Safety-Boilers
Alpha Energy Solutions
7200 Distribution Drive
United States (US)
Opening Hours
| | |
| --- | --- |
| Monday | Open 24 hours |
| Tuesday | Open 24 hours |
| Wednesday | Open 24 hours |
| Thursday | Open 24 hours |
| Friday | Open 24 hours |
| Saturday | Open 24 hours |
| Sunday | Open 24 hours |