About Kentucky Hot Water Jetter: Water jetters, hydro-jetters, or sewer jetters are dynamic cleaning machines. They make use of high-pressure water jets to remove any buildup and blockage in sizable municipal sewer systems, residential drainpipes, and commercial drain pipes.  If you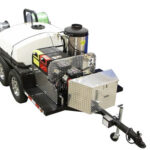 want a high-pressure Kentucky hot water jetter with perfectly drilled jetter nozzles, you need to insert the jetter's nozzle into the access point of the blocked drain, downpipes, or sewer. High water goes through the drain, totally getting rid of all the residue and build-ups from the pipes' sides, then flushing out with an appropriate root nozzle any alien materials such as roots that might be blocking the pipes.
The following are the benefits that make Kentucky hot water jetter to be highly preferred
They are environmentally friendly. Water jetting ultimately gets rid of the accumulated residues in a safe way, unlike the traditional snake-type cleaners that break debris but leave it behind only to have it re-clog later—water jetting hinders self-healing clogs of materials from reforming, for example, grease. Using water to remove a blockage ensures that no hazardous chemicals are making their way through the drain and into the water treatment plant.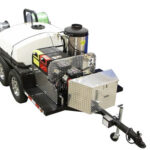 They are super-efficient in clearing drains. Compared to most cleaning methods, high-pressure water jetting is more effective. It can access deeper into accumulated debris and residues then flush out rocks, minerals, roots, or any other obstacles that might clog up pipes.
Besides, using a cable machine, debris within the sewer line is technically cut by a steel spring cable, bouncing and jumping around to stop any blockage; however, this subjects the pipes to potential damage. High-pressure water jetting completely eliminates the blockage and pushes the rest of the debris into the primary sewer line to avoid more clogging.
On the other hand, it is more advantageous to use Kentucky hot water jetter. Kentucky Hot water jetter effectively cleans the pipes because, unlike cold water, it actually softens the cloggings, therefore, making it seamless to remove them from the pipes.
The fact that water jetters are simple to use, safer, and effectively clean the intended place is among the top reasons why most plumbers and other technicians prefer hydro-jetters as the ideal machine.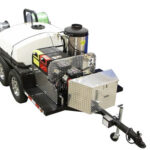 Sewer jetters can accommodate up to at least fifteen hundred gallons of water in a large sewer cleaning type of situation. These water jetters can be installed on trucks, trailers, or pulled by vans, and in situations of smaller sewer jetters, we can also mount them for you on a cart. These hydro jetters are made up of several nozzles, an engine or motor, a hose reel, a pump, and a specific hose length. They get their water from potable water sources such as water tanks. Also, water jetters can be utilized for both residential and commercial purposes.
Premises' managers buy sewer and drain cleaning devices to regulate costs. A sewer pipe is thoroughly cleaned from the lower end of the pipe while the hose navigates itself to the topmost part of the pipe. If, in any case, it becomes impossible to clean from the lower pipe's end, the pipe should be Kentucky hot water jetter severally to eliminate all the residues and debris. If you need a skilled technician, do not baby away from contacting us, Alpha Energy Solutions. We can effectively help you to properly clean your sewer despite the types of waste clogged in there.
Connect with alpha
Alpha Energy Solutions
7200 Distribution Drive
United States (US)
Opening Hours
| | |
| --- | --- |
| Monday | Open 24 hours |
| Tuesday | Open 24 hours |
| Wednesday | Open 24 hours |
| Thursday | Open 24 hours |
| Friday | Open 24 hours |
| Saturday | Open 24 hours |
| Sunday | Open 24 hours |