Industrial COVID-19 sanitizers have become a standard feature today. Most facilities have established sanitizing stations since the start of the pandemic. Using face masks, commercial disinfectants, social distancing protocols, and Industrial COVID-19 sanitizers have effectively prevented the spread of coronavirus. This is because germs, bacteria, and viruses survive on surfaces, and sanitizing kills them. Moreover, Industrial COVID-19 sanitizers have been commonly used across public buildings, facilities, and other commercial establishments since the pandemic began.
Although hand gel effectively kills the virus, many people have expressed concern about the danger it exhibits if it is overused. Most facilities report that using sanitizers for a long time can lead to antimicrobial resistance, autoimmune resistance, asthma, increased risks of allergies, and skin conditions, including dermatitis. An American Journal of Infection Control review shows that alcohol-based sanitizers are effective in killing viruses but only if the right amount of gel is applied to cover both hands. Also, the gel works if it is not wiped off before it dries.
Industrial COVID-19 sanitizers
This article will enable commercial buildings and facility owners to make better choices on the right Industrial COVID-19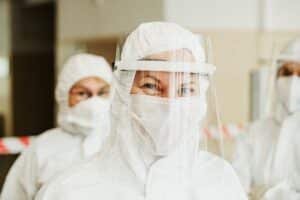 sanitizers. It will also give them insights into guidelines and preventive measures to undertake when occupants and consumers when using sanitizers. Experts recommend that handwashing should be used as an alternative to Industrial COVID-19 sanitizers. This will prevent antimicrobial resistance or skin conditions. For instance, facilities should establish water and soap handwashing stations to sterilize hands more effectively.
The United States Centers for Disease Control and Prevention recommends that handwashing limits the amount of all chemicals, and germs on hands, such as heavy metals, dirt, and pesticides. Multiple laboratory studies indicate that Industrial COVID-19 sanitizers are ineffective in preventing coronavirus spread if not supplemented with handwashing. When misused, they can encourage bacteria to build resistance to them, leading to further infections.
COVID-19 sanitizers efficiently
As a facility owner or manager, it is crucial to understand how bacteria can create a tolerance to alcohol. This can be avoided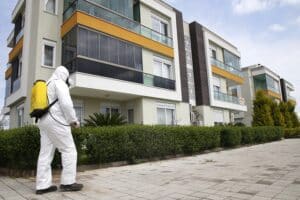 through frequent washing of hands with water and soap. CDC indicates that overusing alcohol-based sanitizers can make the skin irritated or dry. Therefore, it is best for facility owners, occupants, and clients to wash their hands regularly before applying sanitizers to prevent the spread of bacteria or coronavirus. In 2020, the American Contact Dermatitis Society expressed concerns about the increased use of Sanitizers which can trigger skin allergies and eczema.
They advise facilities to ensure that their employees use Industrial COVID-19 sanitizers efficiently to avoid skin allergies and infections, which can hinder their productivity in the workplace. Health experts recommend hygiene practices such as cleaning and disinfecting surfaces, following preventive health measures such as wearing masks, getting vaccinated, social distancing, and handwashing and sanitizing. Similarly, facilities should establish ways to combat infections across the workplace by frequently sanitizing surfaces, disinfecting floors, walls, and office equipment, and enacting handwashing stations.
Contain most Industrial COVID-19 sanitizers
Commercial buildings and other facilities should consider multiple measures before using Industrial COVID-19 sanitizers. They have to check labels, chemicals involved, the concentration of alcohol, and any dangers involved, such as how to avoid the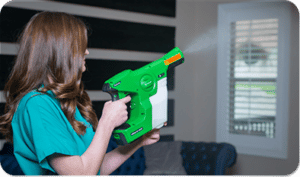 sanitizer's contact with the eyes. Besides alcohol, most Industrial COVID-19 sanitizers contain oxidizing agents such as hydrogen peroxide, which effectively kills bacteria and viruses.
This occurs through an oxidation, whereby the sanitizer breaks down proteins that make up the virus. Hence, hydrogen peroxide has similar effectiveness to alcohol in killing microorganisms that cause coronavirus. As a result, Industrial COVID-19 sanitizers have significantly reduced the spread of coronavirus. Although they may require the presence of other alternatives, they are portable, affordable, and 99.9% effective across facilities and other commercial buildings to ensure a safe working environment for occupants and clients.
Alpha Energy Solutions
7200 Distribution Drive
United States (US)
Opening Hours
| | |
| --- | --- |
| Monday | Open 24 hours |
| Tuesday | Open 24 hours |
| Wednesday | Open 24 hours |
| Thursday | Open 24 hours |
| Friday | Open 24 hours |
| Saturday | Open 24 hours |
| Sunday | Open 24 hours |