Selected points of this article
hide
Commercial HVAC systems are massive and highly sophisticated. It is because they must be able to cope with the significantly higher demand placed on them compared to residential structures. Installing commercial HVAC systems is a complex procedure that can only be performed effectively with specialized equipment and professional training.
The same principles apply when it comes to business HVAC repair and upkeep. Because of the amount of wear and tear that these systems endure daily, they will require ongoing expert services if you want them to operate for as long as is reasonably practical. You should schedule maintenance for your business HVAC systems once a year, and you should call for repairs immediately if you spot a problem.
Symptoms that Your Commercial HVAC System Experiencing Issues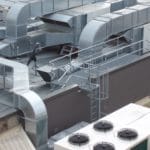 Many symptoms could suggest that your commercial HVAC system is experiencing issues. For example, a loss of output is a relatively evident symptom of something badly wrong with your system's functionality. A rise in heating or cooling expenditures is also often indicative of an issue that requires repair.
But you must contact a repair service right away if you have any reason to believe that there is a problem. HVAC problems develop in severity; the longer they are left unattended, the worse they become. We recommend that you fix any issues with your system quickly to avoid causing any more damage than is necessary. Even if it turns out that there are no problems with your system after examination, at the very least, you may be confident that it is in good working order.
When your commercial HVAC system is kept up to date, there are a lot of benefits. Many things can go wrong with your heating and air conditioning system, and it's good to have people who know how to fix them right away.
Reasons for getting Commercial HVAC Services:
Here are points or reasons that you have commercial HVAC service done.
Regular maintenance can help to reduce the likelihood of significant repair issues. By performing routine preventative maintenance on your commercial HVAC system, professionals can identify and resolve any problems before they become big problems. It can also help to keep the cost of repairs under tight control. Regular maintenance allows the HVAC system to operate more efficiently, resulting in longer service life.
Personal familiarity with your system is essential. Technicians from a local company directly familiar with your HVAC system are available when you schedule regular maintenance. If something happens to your system, they will be able to save you time on repairs because they will already know what you will require for parts and services to fix the problem.
Regular maintenance helps avoid emergencies, which is especially important when your system is most in need of repair. If something should happen that necessitates immediate care, you will be given priority because you are one of the company's frequent customers, thanks to the regular maintenance program. It can prevent you from waiting for a lengthy period before repairing the system during peak hours.
Maintaining your system regularly will help it run more efficiently. It can assist you in lowering your energy expenditures. The utilization of energy by older systems or those not functioning effectively is higher. It has the potential to result in increased energy bills.
Maintaining the efficiency of your HVAC system through regular maintenance benefits the environment because the system is not emitting hazardous pollutants. Modern HVAC systems are meant to be energy efficient, but they also use green technologies to help maintain a healthy environment.
Conclusions: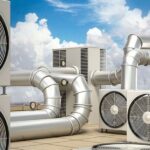 Climate control systems (HVAC) are among the most critical systems in commercial buildings. They contribute to the overall comfort of staff and consumers and the preservation of the building's structural integrity.
Employees must be comfortable working or just visiting a business, so HVAC systems provide both heating and cooling. It is critical to recognize the significance of HVAC services to guarantee that they are functioning correctly and offer the appropriate quantity of heating and cooling when required.
Air conditioning and heating systems are essential for maintaining a pleasant temperature in buildings and residences. If they are not functioning correctly, they can cause substantial discomfort and possibly pose health hazards.
A consistent supply of warm air is provided by commercial HVAC services, which are particularly critical in large buildings. A malfunctioning system might result in substantial discomfort and decreased productivity, and money loss for the company.
Alpha Energy Solutions
7200 Distribution Drive
United States (US)
Opening Hours
| | |
| --- | --- |
| Monday | Open 24 hours |
| Tuesday | Open 24 hours |
| Wednesday | Open 24 hours |
| Thursday | Open 24 hours |
| Friday | Open 24 hours |
| Saturday | Open 24 hours |
| Sunday | Open 24 hours |