Selected points of this article
hide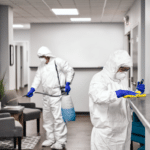 Under normal circumstances, very few people would consider disinfecting their facilities. However, since the beginning of the Covid-19 pandemic, commercial disinfecting has become a usual thing. If you are working in high-traffic offices or places like hospitals and clinics, you are highly vulnerable to contracting Covid-19, which calls for Commercial disinfecting services. Alpha Energy Solutions is a leading commercial company that gives you cleaning and disinfecting solutions during the ongoing pandemic. Currently, most offices and buildings are concerned about getting back to business after lockdown. This will only be successful if you employ measures to protect your employees and customers from Covid-19 through professional commercial disinfection.
Commercial Disinfecting & its benefits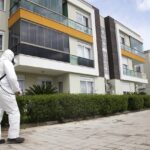 Commercial disinfecting services have spiked since the beginning of the Covid-19 pandemic. Schools, hospitals, airports, train stations, and commercial buildings, among many spaces, have focused on disinfecting as a way to eliminate and control the spread of the virus. Combatting the pandemic today is taking place in so many ways, disinfecting being one of them.
Our goal is to meet your businesses' specific needs by providing you with disinfecting services, sanitizing services, and thorough cleaning services. We utilize potent tools such as the SanitizeIT, among other equipment that will leave your space feeling clean and sanitary. We also provide customized commercial disinfecting services given your location. Our services are tailormade to disinfect and protect your company according to your needs while complying with CDC and public health regulations for Covid-19. Our services are used in hospitals, manufacturing facilities, offices, restaurants, healthcare facilities, and gyms.
Alpha Energy Solutions' disinfecting services are OSHA, CDC, and EPA compliant.  Our chemicals are approved for use against SARS- Cov-2 virus.
We focus on high-touch point areas within the commercial facility, such as entry and exit points, elevators, switches, and doorknobs.
We use electric and electrostatic systems to provide our services.
We do deep cleaning, penetrating through all corners and underneath surfaces using our highly efficient tools such as sprays and guns to disinfect.
While cleaning health care facilities such as clinics, we do not just choose a random disinfectant; we use hospital-grade disinfectants.
We provide recurring services and excellent customer services. We not only attend to your needs once but again and again and make follow-ups.
We deliver essential touchpoint disinfection through our team of professionals with expert training.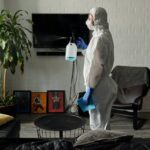 Alpha Energy solutions use commercial disinfecting tools such as ProKure 1, a patented chlorine dioxide system meant for disinfecting and cleaning services. This system is fast and easy to use during the disinfection process. Its results are superior odor, pathogen control, and disinfecting services without the need for heavy equipment.
It also possesses all the benefits of SanitizeIT. Other types of disinfecting cleaners include the Sani -Spritz which is efficient against a wide range of viruses and microorganisms. This system is mostly used in hospitals as it causes a decline in cross-contamination within healthcare facilities, schools, offices, and commercial centers.
Don't risk any infection! Avoid and control the spread of Covid-19 within your office or your commercial building by contacting us today and inquiring about our deep commercial disinfecting services.
Contact us for more information
Alpha Energy Solutions
7200 Distribution Drive
United States (US)
Opening Hours
| | |
| --- | --- |
| Monday | Open 24 hours |
| Tuesday | Open 24 hours |
| Wednesday | Open 24 hours |
| Thursday | Open 24 hours |
| Friday | Open 24 hours |
| Saturday | Open 24 hours |
| Sunday | Open 24 hours |