Selected points of this article
hide
Commercial Disinfecting service in Louisville: Today more than ever, your commercial premises should put measures in place to protect against microbes that cause various diseases and other contaminants. A more hygienic and cleaner environment for your employees and the customers and clients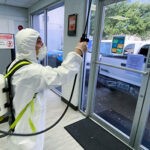 who visit your business premises is something that should not be taken for granted. They need to feel comfortable and have peace of mind.
Alpha Energy Solutions has developed good commercial disinfecting services to protect commercial areas from microbes and other harmful contaminants. Alpha Energy Solutions has services focused on sanitizing and disinfecting commercial buildings. Studies have been done using various commercial disinfecting methods like quats, hydrogen peroxide, ultraviolet light, ozone, and chlorine dioxide. Clean office space has many advantages for both business owners and their customers and clients.
commercial disinfecting increases productivity; when employees work in a clean and hygienic space, the environment enhances their efficiency and enthusiasm. Cleanliness and hygiene in an office create an environment that the employees find comforting, welcoming, and concentrate on their work more. The more the employees' level of concentration at work, the more ground they cover, and eventually their productivity increases.
Commercial disinfecting services provide a safe and healthy environment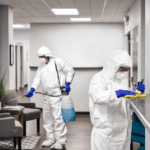 Alpha Energy Solutions' commercial disinfecting services provide a safe and healthy environment. An office that is dirty, unkempt, and disorganized is potentially hazardous. Such an office space makes it easier for accidents to occur, infectious diseases to spread, and employees to suffer from personal injuries.
To have a safe and secure environment for your employees and clients, you need to ensure proper hygiene and cleanliness are maintained at all times. Hiring professional cleaners and disinfecting services from Alpha Energy Solutions ensures that the risk of acquiring and spreading infectious illnesses and diseases decreases.
It reduces workplace injuries that would otherwise cause losses to the company if an injured employee decides to take legal action against the company. Commercial disinfecting services are also time-saving, especially when you hire well-trained and professional commercial cleaners. They do the job accurately and promptly instead of how you and your employees would do the cleaning exercise.
Besides, the time you would take to clean the building would have been used to do an activity to increase the business profitability. You can also save costs by going for commercial cleaners because of the affordable and competitive rates friendly to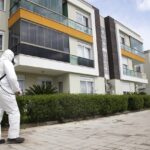 the customers. They also come with their cleaning equipment and products, so you do not have to buy yours.
An excellent professional image is what most businesses go for. commercial disinfecting services are your starting point to earning that image. A clean office creates a good impression on your customers and attracts more new and potential customers. A clean office leaves a welcoming impression on the customers and keeps them happy and satisfied. What's more, a clean office gives them peace of mind and makes them feel confident to have their businesses handled by a clean company. It all starts with cleanliness. Get yourself a professional commercial disinfecting service crew from Alpha Energy Solutions for a fantastic office clean-up.
Alpha Energy Solutions 7200 Distribution Dr, Louisville, KY 40258
Alpha Energy Solutions
7200 Distribution Drive
United States (US)
Opening Hours
| | |
| --- | --- |
| Monday | Open 24 hours |
| Tuesday | Open 24 hours |
| Wednesday | Open 24 hours |
| Thursday | Open 24 hours |
| Friday | Open 24 hours |
| Saturday | Open 24 hours |
| Sunday | Open 24 hours |