Selected points of this article
hide
Commercial Chiller Rentals: 7 Reasons Why You Should Choose It

Commercial Chiller Rentals: No matter how you look at it, chillers are definitely expensive machines. Considering the fact that they are heavy-duty industrial machinery with high-efficiency rates, it is easy to understand why. The more efficient they are, the more expensive they will be. Even though they are desperately in need of one, the higher price tag acts as a deterrent to many. For this reason, commercial chiller rentals have become quite popular in recent years.
This article outlines 7 reasons why it is a good idea to commercial chiller rentals.
Affordability:
Having the ability to afford chillers is not an easy feat, and as mentioned earlier, the prices are surprisingly high. However, you can't scrimp on it. If you do, then you are negatively impacting your business. This means that if you decide to choose commercial chiller rentals, you are able to use a chiller at a fixed price, which will be paid on a monthly basis for the time that the chiller is in use.
Buying On Installments: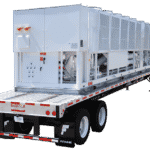 There are two ways you can run your chiller rental business. The first option is a traditional one in which you rent the chiller for a fixed rent. It won't cost you a hefty amount for the initial purchase; instead, the chiller is rented to you for a fixed amount that is paid periodically. Though the disadvantage of accumulating more rent with prolonged use does exist, there is still the benefit of not having to spend much on the initial purchase.
Other options include buying the machine with monthly installments. Like paying a bill, you will purchase the chiller, and then for a set amount of time, you will pay installments, until the entire amount is paid off. After that, the machine becomes your property.
Upgrading Becomes Easier:
There may be circumstances in which your requirements exceed the capacity of your current chiller, or the specifications are just insufficient. There is also a possibility that the machines are becoming less efficient and effective due to some reason or another. What you need is an upgrade to a better chiller, but that's simply not possible with your current budget. You can nonetheless take advantage of that opportunity with commercial chiller rentals.
Reduced Taxes:
If you own property, you have to pay taxes on it. Having said that, however, it should be noted that given the commercial chiller rentals, you are actually not the true owner of this property, are you? Putting it simply, you will get the most out of a chiller that does not belong to you. Due to this reason, you are not responsible for paying the applicable taxes, since the machine is not yours.
No Maintenance Costs:
Once again, the chiller is not yours. You're not responsible for the annual maintenance costs of the equipment if you are getting it for a limited period of time, such as 6 months, or 10 months. You would likely need to spend more over the course of its operation if you are renting it for a long period of time. However, if you are renting it for a short period of time, you are not expected to incur those costs.
Easier To Move: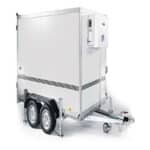 Having your own property for your business is not an option for everyone. Many businesses are based on rented premises. Although that isn't exactly a problem, the fact that you have to move the chilled containers from one place to another is. That's due to their high weight, and the fact that they can easily be damaged while being moved. You can circumvent that problem with commercial chiller rentals which will enable you to rent a new chiller from another business located at your new location as opposed to buying one.
You Are Not Responsible For Accidental Damage:
As long as the rental agreement has been negotiated properly, you can ensure that you will not be liable for any damages in the event of an accident. Sure, for smaller repairs, you're responsible, and the same goes for intentionally damaging a chiller. In the end, however, you aren't responsible for accidents.
Alpha Energy Solutions
7200 Distribution Drive
United States (US)
Opening Hours
| | |
| --- | --- |
| Monday | Open 24 hours |
| Tuesday | Open 24 hours |
| Wednesday | Open 24 hours |
| Thursday | Open 24 hours |
| Friday | Open 24 hours |
| Saturday | Open 24 hours |
| Sunday | Open 24 hours |