Selected points of this article
hide
Louisville Chiller Rental Service: The uptake of thermal energy from the processing water and subsequent transference of the heat further into airflow are both parts of the air-cooled chiller conditioning cycle. Louisville chillers rental are most typically utilized in settings where there is a lack of room for the unit and the magnitude of the released heat load is unimportant.
Types of Louisville Chiller rental available
There are two basic types of chillers available in the market
Air-cooled Louisville chillers rental

The air-cooled rental chillers are easy to set up and built to withstand the hardest industrial environments.
These air-cooled rental chillers are frequently employed to provide supplementary, interim, and essential cooling for high-volume purposes such as health care facilities, refineries, and power plants, which is why they are trailer-mounted as well as available for immediate delivery.

Water-cooled chillers

The chiller professionals will assist you in calculating the power requirements so that you can meet your chilling demands using just the current power flow from your plant, avoiding the added expenses of renting a generator.
Most of the rental chillers simply need a single power outlet, are self-contained units with cooling towers and pumping systems, and are even trailer-mounted for fast delivery.
Benefits and Features of Louisville Chiller Rental
Chillers with capacities ranging from 10 to 1,000 tons
Ice rink chillers are also available in some rental industries.
Designed to operate in the most extreme conditions
Low-temperature and low-ambient capability
Before renting, all of the equipment was put through its paces.
Why must you Louisville Chiller Rental?
Constraints on Capital: Many organizations view renting chillers, either water-cooled chillers or air-cooled chillers, as a cost-effective alternative to making a large investment in a long-term purchase.
Shutdowns that have been scheduled: Louisville Chiller Rental is the greatest alternative for implementing a temporary solution to sustain activities if you need to schedule a planned closure of your HVAC equipment.
During equipment failure: In case your permanent HVAC system faces trouble, especially for chillers, and all of a sudden it stops operating then it is perfectly normal to hire someone to fix the already installed system while you rent a temporary chiller unit for beneficial purposes.
Flexibility: Buying a Louisville chiller rental restricts your options and renders your house or firm less flexible. The reason for this is the investment's original cost, which is not insignificant, as well as the fact that you must utilize it if you bought it. So, if your business takes a turn for the worse and the profit is not what you expected, you would not be able to simply quit and walk away. Nevertheless, renting is achievable. You simply terminate the contract and then return the appliances.
Special projects and events: Most of the time, organizations rent chillers when it comes to special occasions or timely events. Airports, hospitals, storage buildings, and temporary structures, all rent chillers for a specific duration.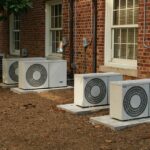 Buildings, like many industrial operations, require effective temperature regulation. Purchasing chillers, boilers systems, airflow units, and pumping technology is frequently the default response in both circumstances. Nevertheless, there are a few situations where renting rather than purchasing makes sense.
Alpha Energy Solutions
7200 Distribution Drive
United States (US)
Opening Hours
| | |
| --- | --- |
| Monday | Open 24 hours |
| Tuesday | Open 24 hours |
| Wednesday | Open 24 hours |
| Thursday | Open 24 hours |
| Friday | Open 24 hours |
| Saturday | Open 24 hours |
| Sunday | Open 24 hours |