Alpha Energy Solutions Joins Ben Rhodes
With the Memorial Day weekend fast approaching, Alpha Energy Solutions, in conjunction with NASCAR Camping World Series (NCWTS) driver Ben Rhodes and his No. 41 Toyota Tundra ThorSport Racing team, have announced a partnership with USA Cares, a non-profit organization based in Radcliff, KY, to grow awareness of veteran and military families in crisis.
At no cost to USA Cares, Alpha Energy Solutions has provided the primary sponsorship locations on Rhodes' NCWTS ride to USA Cares for the May 20 race at Charlotte Motor Speedway (NC) and the October 1 Las Vegas Motor Speedway (NV) race. The No. 41 USA Cares Toyota Tundra will have a custom scheme that complements the red, white, and blue colors of the United States of America flag and the USA Cares logo. Additionally, USA Cares will have its logo on the B Post throughout the entire 2016 NCWTS season.
For more information on USA Cares and how you can help veterans and military families in crisis, visit www.usacares.org.
The full announcement release is below, from ThorSport Racing PR.
About Alpha Energy Solutions
Alpha Energy Solutions is a commercial and industrial service provider specializing in building automation, indoor energy solutions, chillers, boilers, electrical, equipment rental, food equipment service, piping, plumbing, sheet metal, refrigeration, insulation, and part sales.  With more than 200 service personnel, Alpha Energy Solutions is one of the largest self-performing service providers.
Alpha Energy Solutions highly skilled technicians operate quickly and efficiently in all areas of system maintenance and management. As members of the community they serve, Alpha Energy Solutions associates are committed to job quality and customer satisfaction. To learn more, visit Alpha Energy Solutions at www.alphamechanicalservice.com.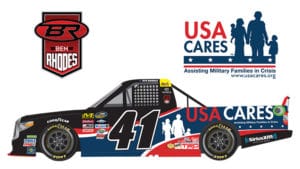 Ben Rhodes and ThorSport Racing joined Forces with the USA Cares in 2016
Sandusky, Ohio (May 16, 2016) – Alpha Energy Solutions, ThorSport Racing, and Ben Rhodes are honored to announce they have joined forces with USA Cares, a non-profit organization based in Radcliff, KY, to grow awareness of veteran and military families in crisis for two NASCAR Camping World Truck Series (NCWTS) races in 2016.
USA Cares, which exists to help bear the burdens of service by providing post-9/11 military families with financial and advocacy support in their time of need, will adorn the No. 41 Toyota Tundra driven by Rhodes at both Charlotte (N.C.) Motor Speedway on May 20, and Las Vegas (Nev.) Motor Speedway on October 1. Rhodes will also continue to run the USA Cares decal on the B-Post of his Tundra for the remainder of the 2016 NCWTS season as he competes for Sunoco Rookie of the Year honors and the series championship title.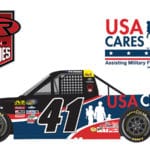 "I had the opportunity, recently, to visit USA Cares headquarters in my home state of Kentucky," said Rhodes. "I was able to spend the day with their staff and caseworkers to hear from some of the veterans and military families they've helped firsthand. I was so inspired and energized by their stories, that I knew I had to get involved. Our military has done so much to take care of us and protect our future that I feel like it's now our turn to take care of them. USA Cares provides a great avenue to do just that, and I look forward to working with them to grow awareness of this great cause."
USA Cares is committed to its mission of providing financial and advocacy assistance to post-9/11 active-duty U.S. military service personnel, veterans, and their families. USA Cares was launched through a grassroots partnership between the management of WAVE-3 TV (NBC) in Louisville, Kentucky, Kroger Food Stores – Mid-South Division, and the Fort Knox Chapter of the Association of the United States Army.
The organization was dubbed Kentuckian Cares, intending to raise funds to help military families in financial crisis by selling "Support Our Troops" yard signs. While $121,000 was raised, the need for assistance proved to be greater than the original initiative could meet. In October 2003, a new 501(c)(3) national organization, now known as USA Cares, was created with a toll-free call center to process the increasing number of requests for assistance.
Today, almost 13 years later, USA Cares has responded to over 80,000 requests for assistance with over $11.8 million in indirect-support grants in all 50 states for Army, Navy, Air Force, Marine, and Coast Guard clients.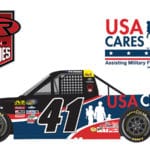 "USA Cares provides emergency financial assistance to military families in crisis at the earliest stage of intervention to prevent further financial distress," said Hank Patton, Executive Director for USA Cares. "We are proud of our 48-hour turnaround because typically, the families need relief right away and cannot afford to wait on a long process.
Much of what we do is made possible by our generous individual and corporate donors, as well as our grant partners, wanting to "pay it forward" to those who have honorably served our country in uniform. The need far outweighs our means, but our mission is to provide every family with options and assistance to get back on their feet and resolve the crisis they are in."
Through their fast response for assistance, application screening process, and the leverage they have with other organizations to assist, USA Cares' goal is to help restore financial stability and self-sufficiency by giving "a hand up." The organization strives to reach families at the earliest stage of intervention to prevent further financial distress and suffering, especially for combat-injured families.
The No. 41 USA Cares Toyota Tundra will debut during the NC Education Lottery 200 at Charlotte Motor Speedway on Friday, May 20. The 134-lap event will be televised on FOX Sports 1, MRN, and SiriusXM NASCAR Channel 90 at 8:30 pm ET.
To learn more about USA Cares or to help support their efforts, please visit www.USACares.org. Or, find them on Facebook atwww.Facebook.com/USACaresOrg or follow them on Twitter @USACaresOrg.
About USA Cares
USA Cares is a 501(c)(3) charitable organization that addresses the critical and unmet needs of post-9-11 service members, veterans & military families facing service-related hardships. The objective is to reach families at the earliest stage of intervention to prevent further financial distress, including foreclosure proactively. When USA Cares is contacted to assist, our goal is to respond to each family within 48 hours.
Assistance programs include combat-injured, career transition, emergency, and housing assistance.  We have responded to more than 80,000 requests for emergency financial assistance, which are paid directly to the creditor in the form of a grant. USA Cares provides the critical support that our veterans and military families need to create a foundation for financial resilience. For more information visit: www.usacares.org
About ThorSport Racing
ThorSport Racing, based in a state-of-the-art 100,000-square-foot facility in Sandusky, Ohio, is the longest-tenured NASCAR Camping World Truck Series team. ThorSport Racing, which has competed in the NCWTS since 1996, will run the No. 88 Menards Toyota Tundra driven by two-time NCWTS drivers' champion Matt Crafton, the No. 13 Cabinets by Hayley Toyota Tundra driven by Cameron Hayley, the No. 41 Alpha Energy Solutions Toyota Tundra drove by Ben Rhodes, and the No. 98 Safelite/Curb Records Toyota Tundra driven by Rico Abreu in 2016. For more information visit www.ThorSport.com
ThorSport Racing Media Contact
Jessica O'Brien
Phone: 803-240-5807
Email: Jessica@EdgehillManagement.com
Contact to Alpha Energy Solutions
Alpha Energy Solutions
7200 Distribution Drive
United States (US)
Opening Hours
| | |
| --- | --- |
| Monday | Open 24 hours |
| Tuesday | Open 24 hours |
| Wednesday | Open 24 hours |
| Thursday | Open 24 hours |
| Friday | Open 24 hours |
| Saturday | Open 24 hours |
| Sunday | Open 24 hours |