Chiller Service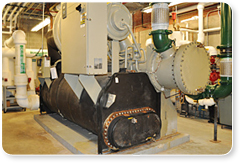 Alpha Energy Solutions can handle your chiller service needs. Moreover, our professional technicians can handle maintenance and installation. In fact, at Alpha Energy Solutions, we have 80 years' worth of experience in the field. We also have trained technicians who are on-call daily.
Next, we are proud to service all top brands. Also, we are an industry leader in cooling towers as well as related equipment. Furthermore, we lead the industry in retrofit equipment and replacement market items for chiller service. Also, our technicians can help you prepare for the unexpected.
Finally, Preventative Maintenance Plans available through Alpha Energy Solutions can be customized to meet your needs.
Whether you need routine maintenance or urgent chiller repair, the Alpha Energy Solutions technicians can quickly get the job done. We understand that you need to reduce downtime and maintain production and also save money.
Commercial and Industrial Capabilities Chiller Service
Tear down and repair
Rental
Installation
Preventative Maintenance Plans
Current Inspections-Eddie
Medical Equipment Chillers
Oil Analysis, Refrigerant, and Vibration Analysis
We also provide vibration analysis, control panel retrofit, handbell retrofit, purse and refrigeration retrofits, solid-state starter, Turbocor retrofits, and finally, variable speed drive retrofits.
We specialize in all of the leading manufacturer brands.
Additional Specialities
We provide repair for open drive centrifugal and hermetic centrifugal chillers, air and water-cooled rotary screw chillers, 1 ton to 5,000 ton systems, and low-temp chillers to –30˚F.
Since we understand how important it is to get your systems back online, we aim to deliver. Not only do we provide quick turn-around on service calls, but we also provide convenient service year-round. As a result, we are a trusted industry leader. Regardless of your needs, Alpha Energy Solutions can help. There is no job that is too big or too small for our knowledgeable team. Our trained technicians are on-call 24 hours a day 7 days a week. We are available to handle regular service as well as unexpected emergencies.
For more information on how Alpha Energy Solutions can meet your Commercial or Industrial Chiller Service needs, give us a call toll-free at (888) 212-6324 or click here to contact us.