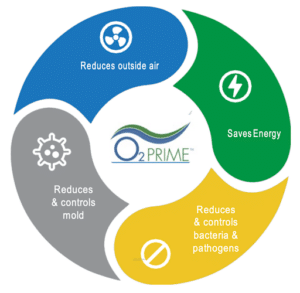 As a commercial building owner, you are probably aware that your building is one of the greatest energy consumers, contributing to global warming and gas emissions. However, your goal should be to achieve clean air within the building. According to a survey carried out on Commercial Buildings Energy consumption, buildings accounted for 42% of total energy consumption. The 02 Prime ionization is a process that allows commercial buildings to decrease the amount of outdoor air required to operate safely. This equates to a safe, comfortable environment while consuming minimal energy.
Alpha Energy solutions present the 02 Prime bipolar ionization technology that will safely clean the air inside your commercial building or residence. Like BPI, This produces ions that break down pathogens such as viruses, hydrogen, and other pollutants into harmless compounds such as water vapor that cannot harm people. This technology causes similar ions like those that occur naturally, for instance, ocean waves and waterfalls. This creates a healthy environment without developing visible ozone.
As most people continue to spend more time indoors, either working or joining friends and family, we understand the negative effects of unhealthy air quality within the building or residence. We do not want you to get fatigued, allergies, headaches, and in some instances, some pollutants could cause you long-term effects such as cancer. Therefore, Alpha Energy solutions propose the use of BPI. Having been accepted and installed by most commercial buildings across the world, 02 Prime continues to gain popularity for the good it does to humans. This technology has the capability to purify ventilated air into the building.
What are the Advantages of Using 02 Prime?
There is much you can benefit from by using 02 Prime as an end-user. Using Alpha Energy Solutions as your service provider, you also get a chance to work with the best team players in the HVAC systems field. Our vast experience and knowledge in operating air circulation systems leave you satisfied, healthy, and in a comfortable residence or working condition or home.
Less energy is needed for 02 Prime ionization. In fact, it uses about 15watts of power.
02 Prime technology directly mounts to the cooling coil frame
02 Prime technology cleans the entire in-depth of the cooling oil.
It kills harmful pathogens from the airstream that could cause serious illnesses.
It also controls foul smells in the air as it controls the flow of outdoor air.
02 Prime eliminates pathogens from highly vulnerable points of contracting infections: the air we breathe and surfaces. Amid these times when every building owner is putting in place measures and strategies for reopening their offices, installing our 02 Prime technology will save you money, and the time you would have spent identifying other solutions. Use the 02 Prime and see your workers come back to work with confidence.
Use Alpha Energy Solutions' 02 Prime technology as your only active air purifier. It has been approved, and you can use it in your commercial building and private airspace. Contact us today and have your air purifier in a safe and environmentally friendly way and reduce energy.
Alpha Energy Solutions
7200 Distribution Drive
Louisville
,
KY
40228
United States (US)
Phone:

(888) 212-6324
Fax:

(866) 296-8035
| | |
| --- | --- |
| Monday | Open 24 hours |
| Tuesday | Open 24 hours |
| Wednesday | Open 24 hours |
| Thursday | Open 24 hours |
| Friday | Open 24 hours |
| Saturday | Open 24 hours |
| Sunday | Open 24 hours |