Business premises need to be made as safe as possible to warrant the protection of your assets. Your office could contain numerous sensible and valuable documents such as data, legal documents, and money. Video management can offer protection of your organization's assets. This system comprises a security camera system that usually collects video from cameras and other sources that record, play, view, and access stored videos.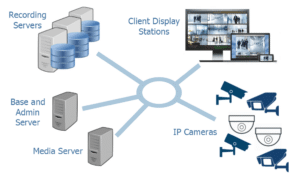 Alpha energy solutions provide you the best video management for your businesses. The size of your business doesn't matter; we have a solution for you!
As you invest in a video system for your company, you not only invest in hardware and software but in the safety of your business, your employees, customers, assets, and generally, you protect what matters. With our video management, you have the choice to upgrade or add any functionalities should your business needs change.
What to look for in a good video management system:
Following your business demands for a 24/7 operation by video surveillance, it is necessary that you have a powerful and effective video management application. An efficient system will help you in viewing, recording, and management of massive numbers of cameras. Below, we take you through some of the best and key features you should look out for in the system before purchasing it and implementing it.
Efficiency – Look for a video management system that you can operate when your security personnel is away. A system that only requires experts to be formally trained before using it tells you it will be challenging to use. Choose a quick system to learn the daily operational tasks and one that maintains the power of fast response.
Independence – Most video applications are independent of hardware and provide you, as the user, the freedom to choose and select which hardware best fits the software. In short, be sure to identify and purchase one with the best components for different applications to enable users to accomplish the video system's optimal performance.
Video Motion detection – Your business needs video management with a motion detector that will enable your cameras to continuously record, activate alerts and alarms that can be raised in case of a motion in the picture.
Features – You need to identify profound video management features provided by the software. You need to look out for these basic features, including video recording, audio, camera administration, management, schedule recording, search options, playback, simultaneous viewing of video stream s from several cameras, and user access control, among other basic features.
Remote locations and mobile services – As a business owner, you want to view what is going on at the premises in your comfort. Your system, therefore, needs optimization features like image-size reduction, adjustable frames for you to access the videos from remote locations.
Important factors
Other important factors that you should look out for video management before purchasing are its design and architecture, modular solution, multi-monitor functionality, ONVIF and PSIA support, and integration of third-party vendor systems.
Alpha Energy Solutions will help in your selection process of the correct video management, a process that demands a lot. Visit our website to learn more about video management.
Alpha Energy Solutions
7200 Distribution Drive
Louisville
,
KY
40228
United States (US)
Phone:

(888) 212-6324
Fax:

(866) 296-8035
| | |
| --- | --- |
| Monday | Open 24 hours |
| Tuesday | Open 24 hours |
| Wednesday | Open 24 hours |
| Thursday | Open 24 hours |
| Friday | Open 24 hours |
| Saturday | Open 24 hours |
| Sunday | Open 24 hours |