A boiler service is a manual inspection that a plumber or engineer conducts on your boiler. During this inspection, they look for any faults or issues and rectify whatever problem they can before the boiler suffers a massive breakdown or becomes a risk to those occupying the building. New boilers always have a manufacturer's warranty. Still, in most cases, if you will not have your boiler serviced every 12 months, then the warranty becomes invalid and remains a meaningless piece of paper. To maintain the warranty's validity and ensure that your boiler is very efficient, it would be best to schedule an annual boiler service with licensed and qualified engineers from Alpha Energy Solution in Louisville, Kentucky.
One of the best ways to ensure your boiler works effectively and efficiently is to book an annual boiler service with a qualified engineer.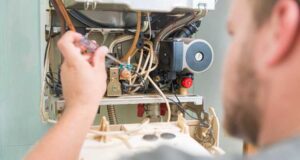 A boiler can be serviced by a qualified engineer, plumber, or boiler specialist. It is crucial to ensure that whoever you contact book a boiler service with a licensed and skilled professional who is very proficient in boiler servicing. One mishap and a boiler fault can be fatal, from carbon monoxide leaks that lead to different complications to an explosion of gas supply in the boilers that may be big enough to bring down a building. Therefore, for such decisions, you should go for quality and reliable services rather than opt for cheaper options that do not guarantee excellent service. Cheap is expensive because in the event such incidents occur, you cannot put a price on the damages and the bills that would come with them. Therefore, if an engineer shows up to service your boiler and you seem quite unsure of their qualifications, ask for their card that provides information on their capabilities and whether they are updated.
A boiler service involves various things, and a qualified and well-trained engineer will have to check several areas during the inspection to ensure that the boiler is not a ticking time bomb. The engineer or plumber checks for leaking and corrosion signs all around the boiler, both inside and outside. They will also check whether gas pressure is too low or too high, whether all controls work like they ought to, safely and effectively. All internal parts of the boiler should be clean and very safe. Additionally, the engineer will check whether your home has been exposed to toxic emissions from the boiler that may be a danger to the building's occupants.
Boiler services are essential.
A faulty or poorly-maintained boiler is a safety and health hazard. You can save energy and money on your bills. Regular service helps you avoid breakdowns, which could end up leaving you and your household without heating at a time when you need it the most, like winter, and finances may not be looking good. It prevents full replacement of your boiler, which is very costly. Therefore, you are recommended to have a boiler service every year; it should be serviced before winter when it is a critical system that should be working.
Alpha Energy Solutions 7200 Distribution Dr, Louisville, KY 40258