Hot Water Jetter Solutions for Facilities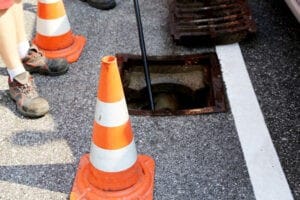 Within commercial buildings and industrial facilities clogged sewer lines can be a common occurrence. Alpha Energy Solutions performs commercial hot water jetter cleaning. Furthermore, our professional technicians are on call 24/7 to respond to your service calls. Major drain backups can be caused by clogged sewer lines. Additionally, overflow issues that end in water damage and sanitary dangers can result from serious clogs. In fact, overflows can also be extremely expensive to repair. It is important, when it comes to issues within sewer lines, to keep up with any problems and clear them frequently.
Additionally, sewer lines assist in removing waste from buildings. This waste is then deposited into larger sub-systems. Facilities are important to prevent spillage into places like bathrooms, toilets, sinks, kitchens, and drains by keeping lines clear. In truth, clogged drains can cause safety dangers and waste up valuable time and funds. Clients collaborate with Alpha Energy Solutions to manage the upkeep of the sewage lines to maintain the flow of waste. A speedy way to get rid of debris from sewer lines is hot water jetter cleaning. You can trust that our field experts will handle your cleaning needs with the utmost dedication.
Commercial Hot Water Jetter 
Commercial sewer lines can vary in size while lines in a facility are larger than those that are found in residential buildings which help them hold together larger amounts of waste. If the line is backed up waste will not be able to flow through. It could also stop the flow of waste all together. 
Grease, cleaning products, human waste, hair and brush are all kinds of waste that are most commonly found in commercial sewer lines. Areas inside sewer lines might also allow other materials to enter the waste flow if the area becomes eroded. Hot water jetter cleaning is the most suitable way to manage sewer lines easily.
A large machine that expels a fast stream of water into the sewer lines is what the hot jetter consists of essentially. The equipment can clean the lines varying in length and diameter. Hot  jet is the preferred method of cleaning by clients due to its thorough nature. This equipment is exponentially faster when removing debris from sewer lines. The hot jetter method lengthens the time between service calls making it significantly more cost effective. Previous methods of sewer cleaning that are also helpful might not clear drains completely calling for more work sooner. 
On-Call Service for Commercial Facilities and Industrial Plants
Consider commercial jetter cleaning for your sewer lines. If so, contact us. Explore our service capabilities. As plumbing experts, we are on-call 24-hours a day for emergency service.  Rely on Alpha Energy Solutions to meet your commercial plumbing needs. Our service technicians have tools that work fast. Keep your sewers lines consistently clear. For caring service and quality results, contact our team of experts.
Inquire with us about hot water jetter cleaning and professional sewer cleaning services for your facility.