Industrial Sewer Cleaning Louisville Service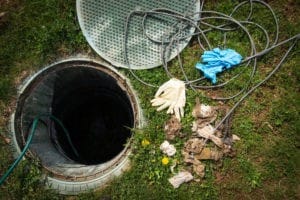 Alpha Energy Solutions is an industrial sewer cleaning Louisville expert that you can count on. Clogged industrial sewers are costly to repair. Maintenance sometimes requires the help of a technician with experience handling complex sewer systems. Commercially available cleaners and tools may not get the job done. The technicians at Alpha Energy Solutions however, use the latest technology to keep sewer lines clear.
Sewers within industrial buildings facilities may end up with serious blockages due to the build-up of debris, chemicals, waste and other materials that harden and prevent water from passing through sewer lines. Sewer lines must be cleared when blockages happen because of the blockages are not removed, water can overflow into workspaces, sanitized areas and cause serious damage to equipment. Moreover, overflows can be unsanitary, leading to an overgrowth of microorganisms. Clean sewer lines are a must; serious blocks in the flow of water out of a building requires repair.
Industrial Sewer Cleaning Louisville Techniques
Alpha Energy Solutions can handle industrial sewer cleaning Louisville for businesses of all sizes. We use a modern method to clear lines that is highly-effective. Methods such as using snakes are not as effective as the hot water jetter. The hot water jetter shoots a powerful stream of water into sewer lines to remove clogs. Blockages are cleared effectively so that water flows smoothly without an issue. The method is perfect for preventative maintenance which industrial sewer lines require to operate properly.
Industrial sewer cleaning Louisville is simply a phone call away. Technicians at Alpha Energy Solutions are on-call 24-hours a day and 7-days a week to handle issues with sewer lines. If you require urgent service for a serious clog, contact a technician. Maintenance can also be carried out by technicians on a regular schedule. Our technicians can inspect your sewer lines for any potential issues before the occur. Contact us to inquire about our sewer cleaning services for industrial operations.