Air-Conditioning Rentals Louisville-Solutions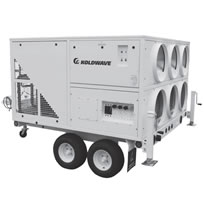 Alpha Energy Solutions can help you meet your requirements for temporary cooling equipment. We specialize in air-conditioning rentals in Louisville for all applications. Focused on supplying equipment for industrial facilities and commercial buildings, we can offer a wide selection of equipment from the top brands. Our range of services includes delivery and installation of units of all capacities. Moreover, following installation, our technicians are capable of performing maintenance on your unit when needed. If you are in the market for rental air systems for your establishment or project, reach out to Alpha Energy Solutions, an HVAC equipment, and service expert.
Quality equipment is a must for busy facilities. Air-Conditioning rentals in Louisville can fill gaps where static units are either not necessary or when the requirement is only short-term. Rentals are an ideal choice for both indoor and outdoor applications in which cooling is needed. Regardless of how large or small your requirement is, we can help with a vast selection of units manufactured to meet quality standards.
Air-Conditioning Rentals Louisville Applied
Air-Conditioning rentals in Louisville may be used in several different scenarios. Outdoor shelters, large events, and construction sites are just a few of the places where rental systems are deployed. Rental units are cost-effective and portable. Even though the systems can be moved, they are still sturdy. As a reputable source for rentals, Alpha Energy Solutions is capable of narrowing down the broad selection of equipment available to a system that is right for your application.
Rental units do require maintenance. If systems are deployed for a lengthy period of time, consider a preventative maintenance plan. Alpha Energy Solutions does offer Preventative Maintenance Programs designed for HVAC equipment, including rental units. Maintenance is simply a part of managing climate systems. Heavy usage of the machines will cause it to require some refreshing, whether it is in the form of components or fluids. Our technicians can provide support for your air systems with expertise.