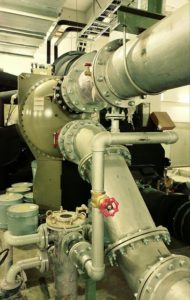 Alpha Energy Solutions is your source for chiller repair Louisville. We specialize in commercial and industrial chillers. With a focus on quality service that you can trust, our technicians deliver over 2,000 years of experienced in the field combined. When your chiller is not working properly, your energy expenses may rise and your facility may experience a slowdown in production. Avoid the additional pitfalls linked to a broken chiller, contact a technician with Alpha Energy Solutions as we are on-call 24/7 throughout the year.
Finding a chiller repair Louisville specialist is easy when you look to Alpha Energy Solutions as your provider. We understand that in addition to standard upkeep, repairs may be necessary due to wear. Performance issues are likely with extensive use. Chillers deployed within industrial settings carry a heavy load in terms of energy and therefore must be maintained to ensure the best outcome. Maintenance is a key factor in achieving the best performance from your equipment. You simply never know however, when an urgent situation may arise. Having a responsive service provider available will make a difference in the turn-around time on repairs.
Before assuming that your chiller requires repair. Contact an experienced technician to determine what if anything may be wrong with your equipment. While it may be obvious that your chiller is not functioning properly, observing the severity of performance issues requires a trained professional. All chiller repair should be addressed quickly to ensure there is a reduction in downtime. Restoring your equipment to service quickly is crucial. In manufacturing facilities, there is simply no time to waste. If you suspect that there is a repair issue with your unit, do not hesitate to contact us.
Upkeep is the best way to prevent repair issues which may warrant the need for chiller repair Louisville. Ask about our Preventative Maintenance Programs which have been developed to assist you with managing your cooling equipment.