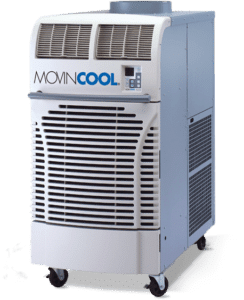 Mobile cooling systems are cost-effective options for a myriad of scenarios dealing with the commercial sector. The equipment provides temporary cooling in a flexible manner with less commitment. Due to the fact that temporary cooling machines can be installed and removed with ease, they can be applied over and over again depending on your need. Alpha Energy Solutions, an expert in HVAC can assist you with locating cooling equipment for your next temporary cooling requirement.
Mobile cooling equipment can be used for outdoor events, festivals and concerts. Moreover, the equipment can be deployed in emergency situations including temporary shelters and in the midst of natural disasters. Facilities that experience an unexpected halt in operations may rely on mobile cooling units to restore temperature control to protect the integrity of valuable equipment. The greatest benefit of such cooling systems is that they are portable. Portability allows the equipment to be placed virtually anywhere.
Alpha Energy Solutions can guide you in your search for portable cooling equipment as a knowledgeable resource with experience. Our technicians are capable of dealing with equipment of varied capacity. Moreover, we have over 2,000 years of combined field experience. Technicians are on-call 24/7 to handle service calls. Cooling equipment that is portable is a reliable solution however, depending on the length of time for which it will be deployed, service is beneficial.
Servicing your units will ensure that they run to optimum efficiency while saving you on expenses. Cooling requirements can happen year-around and during any season. The machines are helpful because they can be placed indoors or outdoors. Depending on the capacity of your unit, usage will vary. Regular service particularly for longer projects such as construction or manufacturing will keep your equipment performing at or above standard. Contact us to inquire about our portable cooling systems, service and maintenance capabilities.