Reliable Boiler Repair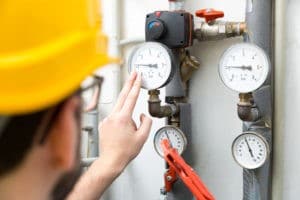 Alpha Energy Solutions is your key provider for boiler repair. Unexpected issues with your system is possible with frequent use. When you have a service technician that you can rely on, identifying problems with your equipment can save you both time and money. Handling boilers in commercial facilities requires a high level of expertise. Our technicians have over 2,000 years combined in the field working with commercial heating systems. We are experts in HVAC.
Any delay on boiler repair problems will certainly lead to serious issues down the line. Boilers in commercial buildings are generally reliable however, with heavy usage, they may experience faulty components. Broken pieces may lead to inefficient performance and ultimately wasted energy. The worst case scenario is that a boiler repair problem will be so bad that the system is inoperable. In commercial buildings such a breakdown is a critical situation that may not only affect productivity but may also impact operating budgets. At Alpha Energy Solutions, we understand the distinct needs of large facilities and we are capable of addressing such challenges with your heating systems.
Convenient Boiler Repair
Due to the fact that you never know when an issue may arise with your heating systems, around-the-clock access to care is necessary. System issues can happen at any time and during any season. The technicians at Alpha Energy Solutions are on-call 24/7 to answer when your boiler indicates a problem that needs to be inspected and diagnosed.
Prevention is also key when it comes to caring for large heating systems. Understanding the demand for reliable performance without interruption, Alpha Energy Solutions does over a selection of Preventative Maintenance Programs for boilers. Maintenance packages save you money and also ensure that your systems are running in an ideal manner. Our technicians can provide monitoring and status reports so that you are always aware of what is happening with your machines. Contact us to learn more about our boiler care capabilities including prevention measures.